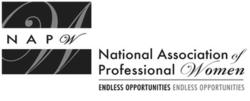 Everyone should know how important it is to network with other women. I wanted to launch a chapter in the Essex County area for that reason
Garden City, NY (Vocus/PRWEB) April 19, 2011
The Essex County Chapter Launch Meeting was held at Ruby Tuesday's restaurant located on Route 22 in Union, New Jersey on April 6, 2011.
The meeting was opened @ 7:45pm and members were welcomed by Chapter President, Michelle Williams-Stevens. All members in attendance received a copy of the bylaws to follow along and Michelle addressed questions by Ms. Caroline Smith regarding appointment of other officers such as vice-president, secretary, etc. It was decided to wait until more members were in attendance to give everyone equal opportunity to participate and the issue was postponed for another meeting. Michelle also discussed the importance of keeping member profiles up to date.
The Chapter then reviewed the NAPW website, including all of the information regarding the general site, the local chapter page, the Star 12 seminars, the newsletter and information about the webinars, podcasts and conventions.
Next, Michelle mentioned the idea of purchasing ID cards from the Sacramento Chapter President, Ms. Sharon Darrow. Everyone expressed that was a great idea were all interested in purchasing one. It was decided that this would be a great way to connect and support our fellow chapters. The chapter then discussed meeting on a monthly basis, discussion ideas to help businesses flourish, guests and having guest speakers.
Finally, introductions were made by each member highlighting their businesses and professions. Caroline spoke first and shared her business and the reason why she joined the NAPW. Monique Smith explained her profession and why it was important for her to link with other women through NAPW. Michelle spoke last, sharing information about her business and her inspiration for starting it, as well as her inspiration for starting the Essex County chapter.
"Everyone should know how important it is to network with other women. I wanted to launch a chapter in the Essex County area for that reason," Michelle added.
In closing, Michelle distributed pins and booklets to each member and discussed a possible date for the next meeting as well as a location. A guest, Ms. Crystal Lee completed an application to become affiliated with this prestigious organization. The meeting was adjourned at 9:15pm.
For additional information regarding the Essex County Local Chapter and/or NAPW, please visit http://www.napw.com. Follow us on Facebook and Twitter.
# # #