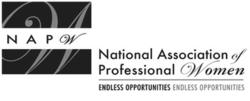 "We went around the table and each one of us introduced ourselves, our company, what we do, why we joined the NAPW and what we want from our new chapter."
Garden City, NY (Vocus/PRWEB) February 25, 2011
Pamela, Fairfax Chapter President, called the meeting to order and welcomed everyone.
"We went around the table and each one of us introduced ourselves, our company, what we do, why we joined the NAPW and what we want from our new chapter," she stated.
Fairfax County list of attendees included Pamela J. Sams, Financial Advisor, Financial Planning Services of Northern Virginia, Bev Barker, Insight Marketing, Cary Bryczek, MKS Software, Inc., Patricia Jones, American Society of Civil Engineers (ASCE), Donna Weyh Roberts, Weyh Roberts & Associates, Ruth Crout, National Events, LLC, DebiJo Wheatley, Designs by DebiJo, and Becky Ventorini, Smithsonian Air & Space Museum, Udvar Hazy Center.
After the introductions, the group had lunch and brainstormed about the direction of the Fairfax County Chapter. Attendees decided to survey absent local chapter members to determine whether lunch or evening meetings are best for the majority. Ruth Crout made a suggestion to alternate between lunch and evening meetings.
The group made suggestions on meeting format. DebiJo, as a new business owner, suggested a discussion on the current challenges as professional women. The chapter decided to host a forum or guest speaker on the topic. It was also agreed to have a lifestyle topic for future meetings in addition to business topics. For example, Donna Weyh Roberts suggested a health professional guest speak about women's health issues. Also, human resources issues such as conflict resolution, how to ask for a raise and how to dress for success. Presentation skills would also be a topic at future meetings.
The group talked about featuring a member highlight at each meeting so individual members would get an opportunity to speak about their profession for 5-10 minutes. This individual would provide the door prize for a raffle at the end of each meeting.
Members discussed starting a scholarship fund for a local female high school senior as well as a member's business expo. The group also intends to plan a charity event such as the Three Day Walk for the Cure.
Over the course of lunch, each member gave an update on what is happening in their professional lives and what type of help they may need in the next month.
Bev Barker took a group picture with the new chapter banner. The photo will be emailed to Pamela and she will post them on http://www.napw.com.
For additional information on The Fairfax County Chapter and/or The National Association of Professional Women, visit http://www.napw.com.
Follow us on Facebook and Twitter.
###