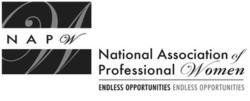 There are amazing business opportunities...
Garden City, NY (PRWEB) May 27, 2011
The Freehold, NJ Chapter of the National Association of Professional Women met on Tuesday, March 22 at 7pm at the Radisson Hotel's Winner's Circle Restaurant in Freehold.
The president of the chapter, Kat Cavallo, welcomed the group and asked everyone to mark their calendars for the next monthly meeting scheduled for Tuesday, April 19, 2011 at 7:00 pm; 6:45 pm for networking. The group also welcomed two guests and followed with a round of introductions.
Kathleen Cavallo is the Director of Meetings and Events of Med Edge, a Marketing Communications Agency specializing in the healthcare industry offering products and services such as strategic thinking, meetings/events, media production and program development.
Ann Laurie Fratticciolli is the owner of Time Well Spent, a concierge service committed to helping individuals achieve a healthy balance between work and the special moments in life. Whether it's running errands or organizing an office to become more efficient, Time Well Spent does an exceptional job for clients.
Marylynn Hawkins is a Realtor with ERA Advantage Realty and the Marketing Director for Mobility Consulting & Contracting Co., which offers home modifications for seniors and people with mobility impairments.
Dr. Yvonne H. Johnson works for Hall, Harrison & Johnson Assoc., LLC; a total wellness company employing natural, integrative energy technologies to support and compliment the body's normal functions to achieve optimal health and prevention of disease.
Tracy Melina is a business owner. She is an independent consultant for Arbonne, a Swiss based company that develops safe, pure, botanically based health and wellness products. Also, Tracy is an Insurance Manager in the Corporate Risk Management Department at Meridian Health.
Linda Nemcick is a Managing Partner with Brylin Employee Benefits, LLC. She is an expert in Life-Health-Disability, 401(k) and Voluntary Benefits.
Lisa Miceli Waters, Esquire is a partner at Giordano, Halleran & Ciesla. Her firms focuses on all aspects of commercial transactions, including, secured transactions and commercial lending and borrowing, counseling buyers and sellers in asset and stock transactions, and advising clients with respect to the formation and organization of their business.
The chapter discussed the NAPW National Networking Conference scheduled for April 29th, 2011. Kathleen Cavallo, Lisa Miceli Waters and Ann Laurie Fratticciolli registered to attend the event and encouraged other members to get their registrations in as well, as space for the conference was limited. The group wanted to show their support for Kathleen, who was to be honored as a Chapter President.
On May 3, 2011, the Governor of New Jersey hosted a conference for Women in Atlantic City, New Jersey. The group discussed their intentions to attend.
Tracy Melina was the designated speaker for the meeting. She provided a description of the Arbonne opportunity with the assistance of her partner, Dawn Cranwell. The pair also discussed the income potential available.
"There are amazing business opportunities," said Dawn, "and there is great income potential."
Kat closed the meeting with a reminder for chapter members to bring guests.
For additional information regarding the Freehold local chapter and/or [NAPW please visit http://www.napw.com.
Follow us on Facebook and Twitter.
###