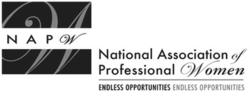 There are tons of women to connect with!
(PRWEB) May 27, 2011
The Freehold Chapter of the National Association of Professional Women held a meeting on April 19th, 2011 at the Winner's Circle Restaurant in the Radisson Hotel. In attendance were President Kathleen Cavallo, members Denise Curtis, Lisa Hynes, Linda Nemcick, Lisa Miceli Waters, Esq. and guest Rachel M. Rinninsland, Esquire.
Kat welcomed everyone and asked members to mark their calendars for the next monthly meeting of NAPW Freehold Chapter, which is Tuesday, May 17, 2011 at 7:00 p.m.; 6:45 pm for networking. The group welcomed a new member and a guest went around the table introduce themselves.
Kathleen Cavallo is the Director of Meetings/Events of Med Edge, a marketing communications agency specializing in the healthcare industry offering products and services such as strategic thinking, meetings/events, media production and program development.
Denise Curtis is a Senior Accountant for Pharmanet, a global drug development services company. Her expertise is in accounting. She earned her B.S. degree at Kean College. Her hobbies include ballet, dance, astrology, tarot and research.
Alicia (Lisa) Hynes, ABR, ALHS, GRI, SRES, is a broker and sales associate with Gloria Nilson Real Estate. She earned the NJAR Circle of Excellence Sales Award for 2006-2007.
Linda Nemcick is a Managing Partner with Brylin Employee Benefits, LLC. Her expertise is in Life-Health-Disability, 401(k) and Voluntary Benefits.
Lisa Miceli Waters, Esquire is a Partner with Giordano, Halleran & Ciesla. Her firm focuses on all aspects of commercial transactions, including, secured transactions and commercial lending and borrowing, counseling buyers and sellers in asset and stock transactions, and advising clients with respect to the formation and organization of their business.
The chapter discussed the National NAPW Conference scheduled on April 29th, 2011. Kathleen Cavallo will be honored at the conference as a Chapter President. The chapter looks forward to discussing the excitement of the conference at the next chapter meeting in May.
On May 3, 2011, the Governor of New Jersey will be hosting a conference for Women in Atlantic City, New Jersey. Kat Cavallo will be attending and she encouraged other chapter members to attend as well.
"Ladies, this will be an exciting event and worth traveling to," Kat said. "Let's represent NAPW and the women of New Jersey."
Kat announced a variety of other exciting events with which they were involved. Members of the chapter attended the Freehold Network for Success: April 21, 2011, at Jacques Exclusive Caterers. Kat also announced that the Garden State Woman's Organization will be hosting The Power of Win/Win Networking on May 20th, 2011.
"Remember to check out the NAPW Wall and Bulletin Board," she said. "There are tons of women to connect with!"
The group considered advertising the chapter through the Network Connection, a community publication based in Keyport. Members checked out http://www.networkconnection.info to research the plan and they aim to make a decision at the next meeting. It was also agreed that the chapter will create an NAPW Freehold Chapter Linked-In page.
The presenters for this meeting were Rachel M. Rinninsland, Esq. and Lisa Miceli Waters, Esq. of Giordano, Halleran & Ciesla, PC. They provided interesting and insightful information about Trusts and Estates. Rachel and Lisa presented the basics of a will, living will and estate planning.
The Trusts and Estates Practice Area of Giordano, Halleran & Ciesla counsels clients on all aspects of estate and retirement planning, including federal and state tax issues, business succession strategies, deferred compensation arrangements, and wealth transfers. Clients include individuals, families, fiduciaries, and private businesses, many with complex legal issues concerning retirement planning, wealth transfers, estate administration, fiduciary litigation and taxation issues.
There are a broad selection of investment, tax, and trust vehicles for creating, managing, preserving, and transferring assets. GH&C's approach is to meet with clients to determine the client's needs and then to develop an approach that best serves those needs. GH&C also consults with its client's many other financial professionals from the fields of accounting, insurance, and investing.
GH&C attorneys also counsel executors, trustees, dispossessed heirs, corporate fiduciaries, banks and attorneys in will contests, commission disputes, fiduciary removal and reinstatement and accounting actions.
Giordano, Halleran & Ciesla's Trust and Estate services include:

Wills and Trusts
Powers of Attorney, including Medical Powers of Attorney
Estate and Trust Administration
Estate, Fiduciary and Probate Litigation
Guardianships and Conservatorships
Retirement Asset Planning
Revocable Living Trusts
Family Limited Partnerships and Business Succession Planning
Educational Trusts, Bypass Trusts, Special Needs Trusts
Post Mortem Planning and Trust Reformation
Kat closed the meeting with a reminder for chapter members to bring guests.
For additional information regarding the Freehold, NJ local chapter and/or NAPW please visit http://www.napw.com.
Follow us on Facebook and Twitter.
###