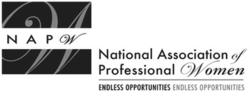 I continue to find uses for the information I get from NAPW in my role at work...
Garden City, NY (Vocus/PRWEB) April 07, 2011
The Indianapolis NAPW Chapter met at Abuelo's Restaurant on March 10, 2011.
Lynn Moore, President of Moore Innovative Solutions and President of the Indianapolis NAPW Chapter, opened the meeting by welcoming everyone, then briefly speaking about the NAPW and the recent events published on the NAPW website.
Many attendees present were new to the meetings in Indianapolis. Lynn asked the group to share how long they have participated in NAPW and what their attraction was to join NAPW. She asked member to share their thoughts during introductions. Lynn offered an example.
"I had joined for the opportunity to network with other professional women in the Indianapolis area and had also volunteered to start the chapter in order to make that happen," she explained.
Monique Barnes, a pastry chef, attended as a prospective member. Monique is looking for opportunities to network professionally and personally. Monique is a busy mother of three and plans to join NAPW as a way to interact with others on a professional level. She is looking forward to the next meeting and getting acquainted with other Indy area members.
Becky Newman, a founding member of Encore, Sotheby's International Realty, is a realtor and a one year member of NAPW. Becky is looking for ways to meet and network with others in the metro area. Becky retired from her title insurance company to start a new real estate venture with a team that includes her daughter, son-in-law and a close family friend. Becky is interested in travel and enjoys spending time with her retired husband who is currently working on perfecting his cooking skills.
Ronda Spurrier is a new member of NAPW and self-employed as an outsourced sales consultant in lead generation software. Ronda is looking for an opportunity to meet other professionals and expand both her network and other business opportunities. Ronda is looking forward to exploring the NAPW site for opportunities, resources and networking.
Carol Coots is a three year member of NAPW and a recipient of the Woman of the Year in Healthcare by NAPW. Carol stays busy with her consulting business and writing. Carol is the author of Stop Wasting Money!: Your Common Sense Money Management Guide for Everyday Life, by Carol and Norm Coots. Carol is President of Medical Consulting From A to Z and an expert in practical cost reduction for business and personal finances. Carol worked with her husband, Norm to write her book and their guidance has saved businesses over $50 million dollars so far.
Willidean "Willie" Duncan, Director of HR at Freewill Methodist Ministries, has been a member of NAPW for nearly two years and is interested in networking and attending local chapter meetings. She has worked in several positions at Freewill Methodist for over 35 years and enjoys all aspects of the organization. Willie has been a member of several organizations and has good ideas to bring to the table for the Indy Chapter.
Shannon Hitchcock, HR Supervisor for UPS, is busy on many fronts. In addition to her role in benefits and employee development, Shannon is in charge of a women's leadership group at UPS and is working on her Ph.D. in Global Leadership. Shannon oversees Human Resources activities for UPS in 6 states and sometimes works remotely. Shannon has been a NAPW member for over a year and takes advantage of the articles, online classes, and other resources NAPW offers.
"I continue to find uses for the information I get from NAPW in my role at work," she said.
Bridget McDaniel, an attorney for Williams Barrett & Wilkowski, LLP, has worked as a paralegal for the firm for over eight years and has since completed her degree program to serve in her new role at the firm. Bridget is busy with her small children and participates in her local chamber, among other organizations. Bridget is excited about networking with others outside of her field and looks forward to building her network.
Tammie Fish, partner in DIVSYS International, LLC has spent a lifetime in the electronics industry and now partners with others in the business. Her company is known in the industry as the "printed circuit experts" and Tammie takes pride in their quality standards. The company uses the Six Sigma practices, which Tammie is trained to implement. Tammie is the mother of three boys and works in a male-dominated industry, so she looks forward to the opportunities offered by NAPW to network with professional women.
Lynn reviewed NAPW benefits for all members and shared the new NAPW brochure for further information. She asked each member to join the Indianapolis Chapter Page at http://www.napw.com/chapter/90/indianapolis/ and use it as an opportunity to communicate with one another and provide feedback and comments.
Members exchanged business cards and were asked to bring plenty to the next meeting.
The Indianapolis Chapter Meetings are posted on the site for future reference as follows:
April 12, May 12, June 9, July 7, August 11, September 123, October 12, November 10 and December 13 – all meetings are held at 6:30 and will be moved (for convenience to all) to various locations.
Upcoming Events: The 2011 NAPW National Networking Conference on Friday, April 29 and the 2011 Midwest Conference for Women hosted by NAPW on Friday, November 18. Register online for both via the website or email they received. Those interested in attending the Midwest Conference, and would like to travel as a group, should contact Lynn ASAP. 317-431-8562 or mooreinnovative(at)att(dot)net.
The chapter planned for future discussions. Members were asked to speak or find a speakers for topics throughout the year and to contact Lynn to present, or with speaker ideas.
It was agreed that meetings will be posted on the chapter page and distributed by email after the current month's meeting along with meeting minutes, photos, etc. by the Chapter President.
The chapter addressed member participation and chapter leaders asked that all members participate fully in meetings and to promote NAPW, the Indianapolis Chapter, and invite others to participate. Members were encouraged to invite potential members to meetings, refer them to Lynn, or refer them to the website for more information. Members were also asked to volunteer to make phone calls to welcome other members to our chapter. This was presented as a volunteer activity and Lynn offered to provide a short list, asking that calls be made at least two weeks prior to the next meeting. Lynn will follow up with email reminders to all area members.
Prospective members will be invited to participate in up to two meetings prior to requiring a membership commitment to continue their participation. Members who would like to bring a guest may do so by their confirmation when they RSVP. All new member information will be sent to NAPW Chapter Contact Cindy Burns for follow up.
There will be no local chapter fees. Chapter members will be responsible for their meal expense and a portion of the cost for special events, speakers, etc. as they confirm their attendance.
For additional information regarding the Indianapolis local chapter and/or NAPW please visit http://www.napw.com.
Follow us on Facebook and Twitter.
# # #