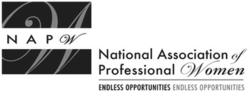 I was happy to learn about the new Indianapolis Chapter and I'm looking forward to networking with fellow members
Garden City, NY (Vocus/PRWEB) April 19, 2011
The Indianapolis NAPW Chapter met for dinner at Buca di Beppo at 6045 E. 86th Street, Indianapolis, IN on April 12, 2011. What in the world is Buca di Beppo? A cool, retro, Italian restaurant that played wonderful host to the NAPW Indy members!
Lynn Moore, President of Moore Innovative Solutions and President of the Indianapolis NAPW Chapter, opened the meeting by welcoming everyone, briefly speaking about the March Indy Chapter meeting, and upcoming educational opportunities and events published on the NAPW website. Lynn passed out NAPW Pins to attending members and offered a NAPW notepad as a welcome gift.
The majority of the group was new to the chapter meeting so Lynn asked the group to introduce themselves, their company and role, and add their business card to the basket for a networking exercise - and a chance to win the $50 Visa Card. As an example Lynn explained that she had joined as an opportunity to network with local, professional women and volunteered to start the chapter in order to make that happen. Where there is a will, there is a way.
Jaye Miller, works for the Department of Defense in the IT Strategy/Policy role and is a Certified Lean6 BB. She just found out that she will soon be the proud grandmother of a baby boy. She is looking forward to attending every doctor's appointment and enjoying the experience with her son and daughter-in-law! She is a motivational speaker on the topic of empowerment and will share her expertise with us as a future meeting speaker. Jaye is looking forward to the next meeting and meeting the Indianapolis area members.
"Lynn, the meeting was really nice. I am glad I came. I can't wait for the next gathering," said Jaye Miller.
Sally J. Esbaum, a Senior Account Executive for DeskTop Resources, works in IT selling Engineering Resources – including time.
"I was happy to learn about the new Indianapolis Chapter and I'm looking forward to networking with fellow members," Sally said. She is a long-time volunteer at Dress for Success and looks forward to their presentation at the May chapter meeting.
Ronda Spurrier, President of Spurrier Marketing, is a software sales consultant in lead generation software. Ronda is looking for opportunities to meet professionals and expand both her network and business opportunities. Ronda has graciously volunteered to assist the Indy Chapter with their efforts in building a strong membership and great meetings.
Shannon Hitchcock, HR Supervisor for UPS, is busier than ever as she is now responsible for six states in her role! In addition to her role in benefits and employee development, Shannon is in charge of a women's leadership group at UPS and is working on her PHD in Global Leadership. Shannon oversees HR activities at UPS and so takes advantage of the many articles, online classes, and other resources offered by NAPW. She continues to put the information she receives to use in her professional role.
Vickie Proksch, President of Creative Laboratory Product Inc., works with lots of men in her role and welcomes the female networking at this chapter meeting! She believes in keeping her employees (and family) happy, healthy and works to teach them good work ethics. Vickieis amazed at the common ground and common contacts this group has and plans to bring some good ideas to the table - literally.
Shelley Coughlin, Owner/President of Coughlin Chiropractic, left a career in the IT industry to follow her desire to learn more about the 'power of the human body'. Shelley likes to teach others what she knows about empowering your body to take care of you and plans to share her good news as a future meeting speaker. Shelley drew Jaye Miller's card and discovered that Jaye works in the same department with her husband at the Department of Defense – really small world!
Bridget McDaniel, an attorney for Williams Barrett & Wilkowski, LLP. She worked as a paralegal for the firm for over eight years and has since completed her degree program to serve in her new role at the firm. Bridget is busy with her small children and participates in the local Boy's Club, among other organizations. Bridget is excited to help find a future meeting venue in Greenwood and looks forward to meeting new members as the chapter grows.
Tracy Gustafson, Project Manager at Universal World Events, has worked on large and small-scale events with varied budgets, requirements, and necessary levels of creativity. Tracy is busy with her family and looks forward to the networking opportunities she is expecting to gain from this interesting group of women.
Carrie Hofer, a prospective member of NAPW, attended as a guest of Regina Heller. Carrie is Manager of Talent Acquisition for The Finish Line, an Indianapolis-based logo sportswear company. Carrie is busy with three young children and is juggling many activities as she returns to work following the birth of her third child. Carrie was the lucky winner of the $50 Visa gift card and will be able to reward herself as a special treat from NAPW. The Chapter looks forward to giving Carrie her official NAPW pin at the next meeting.
Regina Heller, is the Director of Talent Management for The Finish Line, and has taken on additional responsibilities as she juggles Talent Management, Employee Relations, HR and Education, and other duties that keep her hopping to Finish Line cities across the map. Regina is right at home as she helps promote her husband's vinyl graphics company that features racing – perfect for the racing capital of the world! Thanks to Regina for helping NAPW Indianapolis Chapter grow.
Michelle "Mikki" Post, Management Analyst for Vertellus Specialties, Inc., enjoys the creativity she finds in science and chemistry. Her talent also shows in her new contact cards that identify her as the "Superhero Princess". She definitely had the most creative title given to oneself! Mikki enjoyed the evening and meeting this group of interesting and dynamic ladies.
Carol Coots, Member and Guest Speaker for the meeting, shared her "Top Ten Ways to Stop Wasting Money!" Carol stays busy with her consulting business, writing and her work with her husband, Norm. Carol is an author, President of Medical Consulting: From A to Z, and an expert in practical cost reduction for businesses and personal finances.
Thanks to Carol for her fantastic ideas! Her Top Ten:
1. Don't Overpay for Gas!
Check the manufacturer's guide for the best (and most economical) fuel for your vehicle's model.
2. Recycle Your Ink Cartridges!
At Amazon or your local supplier – look for remanufactured cartridges v refilled.
3. Amazon's Subscribe 'n Save!
At no cost, this program will allow you to schedule bulk purchases at a bargain.
4. Use Energy Conscious Appliances!
Water heaters cost approximately $400 per year to run – instead, try on-demand units.
5. Buy in Bulk When the Price is Right!
Watch price per ounce and per item when you compare deals.
6. Print Low Quality and Use the Flip Side!
Use your printer's "low quality" setting to print in house documents, using a fraction of the ink and save lots of money. Print on both sides of the paper to cut costs.
7. PDF for FREE!
Visit http://www.cutepdf.com to download a free PDF writer. File electronic documents, not paper, and preserve the environment. Inexpensive encryption programs are also available – about $20.
8. Check the Details… Carefully!
Carol is an expert on this one and helps patients avoid being a statistic! Eight out of ten patients fall victim to overcharges, mischarges, and needless mistakes on their bill. Report overbilling or unresolved claim discrepancies to your insurance company or the Attorney General's office.
9. Pay Yourself in Time!
Are you really saving money by driving around town to get all those deals? Determine how much your time is worth and look for online deals with free shipping.
10. Excessive Couponing!
Match manufacturer's coupons with sale items for greater savings…and shop at double and triple coupon outlets.
The Indianapolis Chapter Meetings are posted on the site for future reference as follows:
April 12, May 12, June 9, July 7, August 11, September 123, October 12, November 10 and December 13 – meetings are held at 6:30 and will be moved (for convenience to all) to various locations around the I-465 loop.
Upcoming Events: The 2011 Midwest Conference for Women hosted by NAPW on Friday, November 18.Register online for both via the website or email they received. Those interested in attending the Midwest Conference and would like to travel as a group, should contact Lynn Moore. 317-431-8562 or mooreinnovative(at)att(dot)netr
Items to Note:

Speakers: Members are asked to speak or find a speaker for topics throughout the year.
Meeting Information: Is posted on the chapter page and distributed by email after the current month's meeting along with meeting minutes, photos, etc. (By the Chapter President)
Member Participation: Members are asked to participate fully in the meetings and invited to promote NAPW, the Indianapolis Chapter, and welcome others to participate.
Local Chapter Fees: There are no local chapter fees. Chapter members will be responsible for their meal expense and a portion of the cost for special events, speakers, etc. as they confirm their attendance.
Join the Indianapolis Chapter Page! It's your opportunity to communicate with one another, see photos, hear local news and provide comment. http://www.napw.com/chapter/90/indianapolis/
For additional information regarding the Indianapolis Local Chapter and/or [NAPW please visit http://www.napw.com.
Follow us on Facebook and Twitter.
###