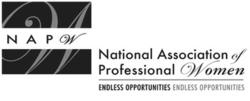 ...assist women in moving forward in a positive and productive way...
(PRWEB) May 27, 2011
The Indianapolis NAPW Chapter met for dinner at Rick's Boatyard Café, Dandy Trail, Indianapolis, IN on May 12, 2011. Rick's Boatyard offers views of the Eagle Creek Reservoir where locals boat, drive or fly into the regional airport to enjoy a fresh seafood dinner. Rick's offers live music in the summer months and is a perfect place to kick off summer in Indy!
Shannon Hitchcock and Sally Esbaum kicked off the meeting by welcoming everyone, briefly speaking about the Indy Chapter meeting agenda and upcoming opportunities and events published on the NAPW website. Members were asked to introduce themselves to the group and add their business card to the basket for a networking exercise - and a chance to win one of two gift cards.
Members that have attended previous meetings included Tammie Fish, Shelley Coughlin, Jaye Miller, Willadean Duncan, Sally Esbaum, Mikki Post, Bridget McDaniel and Shannon Hitchcock.
New members present for the meeting included Diana Hendricks, President and Founder of Healthy Lifestyles Center. Diana is an expert in pain and stress management and is certified and teaches tai chi, and chi breathing and walking. Diana has a wealth of knowledge and offers products and services for health and wellness.
Andrea Ciobanu, also a new member in attendance, is the owner and Partnering Attorney with Massaro & Ciobanu, LLP. Her firm's areas of practice include, but are not limited to, civil litigation, family law, real estate law and personal injury law.
Melisa Hajck attended as a guest of Sally Esbaum. Melisa is a staff accountant with Teipen, Selandes, Poynter Ayres. Services provided by the accountants may include consulting, training, financial and taxes.
This month's speakers included Jaye Miller and Lisa Ralph.
Jaye reviewed her dissertation topic of "Understanding the Relationship of Leadership Styles and Empowerment Behaviors in Organizations." She is also looking for participants for her MLQ study to determine leadership styles and related information regarding transformational leadership.
Lisa Ralph, Certified Life Coach and Program Manager, is affiliated with Dress for Success. Dress for Success, is a non-profit, global organization with a mission to promote the economic independence of disadvantaged women by providing professional attire, a network of support and the career development tools to help women thrive in work and in life.
"The advocates assist women in moving forward in a positive and productive way," Lisa said, "while teaching how to network and build self-esteem."
Some of the goals for Dress for Success include: expanding funding sources and generating new revenue, developing a volunteer system, engage prospects and cultivate donors through strong communication, and increase awareness about DFSI among companies, agencies and organizations that do not qualify as a referral agency.
In 2009, the latest group to be established was the post incarceration support group. This group allows women to discuss common barriers and solutions, understand visioning and goal setting examine and grow their support system and increase self-esteem and become comfortable with all Dress for Success programs.
A popular fundraising event known as "Stepping Out in Style" will be held at the JW Marriott on September 22. The evening begins with a cocktail hour at 5pm. For more information, please visit: http://www.dressforsuccess.org/affiliate.aspx?sisid=31&pageid=3
The NAPW Indy chapter has elected to support Dress for Success throughout the year. Chapter support will include a challenge in June to engage other women at work to participate in our Christmas in July – Suits for Success Drive! The chapter is asking members to raid their jewelry boxes for accessories that would complete a special interview outfit – including shoes and purses. All suits and accessories – including costume jewelry, shoes, purses, belts, etc. will be donated at the July meeting.
Indy chapter members will host the July 7th meeting at the Dress for Success headquarters at 820 N. Meridian St., Indianapolis, IN to deliver "gifts", tour the facility and learn more about what can be done to support this organization.
On September 22, NAPW Indianapolis will attend "Stepping Out in Style," the popular fundraising event held at the JW Marriott, Indianapolis, IN beginning with a 5pm cocktail hour followed by speakers and a celebrity fashion show.
On December 13, NAPW will provide a meal and speakers for members and clients of Dress for Success. NAPW members will participate in a panel discussion and provide thoughts on the written rules of the workplace, the unwritten rules of the workplace, financial planning, and work/life balance. Other members will prepare and serve a meal for the group.
Many members offered assistance with meeting venues, speakers, member calls, planning, etc. The group has developed a spreadsheet to track volunteer efforts and will update it as members come forward. Mikki Post is willing to volunteer for planning of meetings. Andrea Ciobanu will also assist with meetings and anything that is needed.
Lynn Moore awarded NAPW Pins to new members and offered a NAPW notepad as a welcome gift. She invited members to join the Indianapolis Chapter Page on the NAPW website to communicate with one another, see photos, hear local news and provide comment. http://www.napw.com/chapter/90/indianapolis/
The Indianapolis Chapter Meetings are posted on the Indy Chapter page of the NAPW site for future reference as follows: June 9, July 7, August 11, September 13, October 12, November 10 and December 13. Meetings are held at 6:30 and will be moved, to accommodate all members, to various locations around the I-465 loop.
There are upcoming events to note. The 2011 Midwest Conference for Women hosted by NAPW is on Friday, November 18th. Members can register online for both via the website or email they received.
For additional information regarding the Indianapolis local chapter and/or NAPW please visit http://www.napw.com.
Follow us on Facebook and Twitter.
###