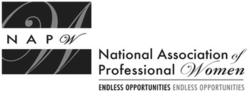 We plan to the keep the date of the Multiple Sclerosis run in mind for next year so that the chapter can put a team together to participate.
Garden City, NY (PRWEB) May 19, 2011
The Milwaukee Chapter met this month to network and discuss the upcoming NAPW Midwest Conference in Naperville, IL. The monthly meeting was held at Albarnese's in Brookfield WI, starting at 6 pm on May 4th at 2011.
Members and guests present at the meeting included Robyn Olszowy- President of NAPW Milwaukee, WI and Creative Consultant, Jeannette Choate – Sr. Cost Accountant – Highmark, Susan Conhartuski – Director of Education, Teri Kaskin – Regional Business Manager – Harris Data, Renee Love – Independent Tupperware Manager, and Dawn Drellos – Attorney – Pellmann, Drellos & Assoc., S.C.
Once members and guests arrived, they signed in and did a bit of chatting and networking. After ordering meals the chapter welcomed Teri and Renee to their first meeting and continued conversations that had begun during gathering time. The group then discussed the Midwest Conference in Naperville IL, being hosted by the Chicago Chapter. Currently, four Milwaukee chapter members are signed up to attend and there is still time for others. A few other members expressed interest and plan to check out the details. Those attending will work out travel arrangements and other details at a future meeting. Robyn reserved a room at the hotel for Thursday and Friday night. The four members attending intend to share a room to alleviate the expense.
Susan did not attend the Multiple Sclerosis run on May 4th as planned. Her friend had a relapse and was in the hospital. "We plan to the keep the date of the Multiple Sclerosis run in mind for next year so that the chapter can put a team together to participate," said Robin.
The chapter discussed future meeting dates and topics and decided on the following: Meetings will continue to be held on the 1st Wednesday of each month, but will start at 5:30pm and conclude by 8:00pm. The chapter now has a permanent reservation at the Sheraton Milwaukee-Brookfield Hotel, located at 375 South Moorland Road, Brookfield, WI 53005. Members will be doing presentations to one another while meeting attendance grows. This will give members and opportunity to highlight their own businesses and endeavors. The group plans to invite guest speakers when attendance consistently exceeds ten members.
Future meetings and presentations for 2011 are as follows: On June 1st, Renee Love, Tupperware Manager, will respond to members' questions about Tupperware products and services. Everyone was encouraged to bring at least one question for the presenter.
On July 6th, Robin will present Stampin' Up!
Plans for August 3rd, September 7th, October 5th and November 2nd are to be determined. On December 7th, the Milwaukee Chapter will be hosting a Christmas Party.
For additional information regarding the Milwaukee local chapter and/or NAPW, please visit http://www.napw.com.
Follow us on Facebook and Twitter.
# # #