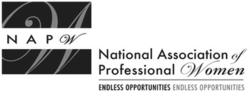 I want to thank all those who attended the meeting and especially for adding their charm and delightful personalities to make it a success
Garden City, NY (Vocus/PRWEB) April 19, 2011
The Nassau County Chapter of NAPW enjoyed a successful meeting on Thursday, March 24, 2011. Members met at Fuse Restaurant at the Hilton Long Island/Huntington. The food was delicious and the service was magnificent.
The meeting started with social introductions, mingling and then a review of the agenda. The group also discussed attendance at NAPW's Conference on April 29th and the Pre Conference Luncheon on April 14th. The highlight of the meeting was NAPW Nassau County Chapter's own member- the delightful, and very informative, Valda Coryat, Owner of V.V. Coryat & Associates: Marketing and Communication Consultant.
Valda presented the Chapter with many useful marketing tips. Her presentation was informative and enjoyed by all. By popular demand, Valda will be providing more in-depth, step-by-step instruction on setting up a LinkedIn profile at the next meeting on April 12th. Each member will bring her own laptop to receive Valda's guidance on enhancing one's professional network and building one's business. The entire group is thrilled to have this expertise and level of support from a fellow member.
The chapter decided the next meeting will be held again at Fuse Restaurant from six to eight in the evening. Valda Coryat and Katherine Ryan won the Nassau Chapter Raffle for this meeting. They each won a $50 Bloomingdales Gift Certificate.
"I want to thank all those who attended the meeting and especially for adding their charm and delightful personalities to make it a success," said Chapter President, Rosemary Serra. Rosemary expressed her hope to see everyone at the next meeting on April 12th.
Attendees included Valda Coryat, Owner of V.V. Coryat & Associates, Jennifer Bacchus, Owner of Jennz Variety Shop, Inc., Jeanne A. Brendel, Executive Director of Emmaus House Foundation, Inc., Kelly McCallister, Vice President of Marketing & Business Development of the National Healthcare Associates, Barbara McNally, Owner of Design Views, Jennifer M. Makaw, Owner, Art Director and Designer of Prints Charming Graphics, L.L.C., Christine M. McGowan, Owner of Molly Maid of New Hyde Park and Garden City, and Katherine Ryan, Senior Vice President and CEO for Ryan & Ryan, PR, Inc. Guests in attendance included Mary E. Butler, Bridget Pirinea, Christina Podias and Dianna Barrows.
For additional information regarding the Nassau County local chapter and/or NAPW, please visit http://www.napw.com.
Follow us on Facebook and Twitter.
# # #