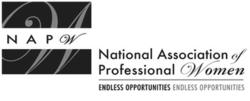 "We had a delightful light dinner which was an enjoyable and informative way of networking."
Garden City, NY (Vocus/PRWEB) February 09, 2011
The meeting was opened by Rosemary Serra introducing the members of the Nassau Chapter. Rosemary said, "We had a delightful light dinner which was an enjoyable and informative way of networking."
"We introduced ourselves and shared our business cards. We jointly decided to hold our future meetings on Thursdays of every month and the site and special guest are open to all for suggestions. We also agreed to hold our next meeting in January after the holidays."
About those in attendance:
Lisa Brooks, NAPW's Executive Director for exclusive networking for professional woman joined us for our first meeting. Lisa was not only delightful company but very informative. One of her valuable suggestions was that we should bring a laptop to our next meeting so we can review navigating the NAPW website. She also suggested that each member include a photo of themselves in their profile. Members want to thank Lisa and NAPW for the lovely notebooks, they are very useful.
Loraine Diaz, LPN of United Cerebral Palsy (Roosevelt, NY) spoke of her heartfelt love for her patients and working with them. She also spoke of the love she receives in return from those for whom she cares. Lorraine is also a licensed Aesthetician. She works with her two daughters, operating as a full salon. While Lorraine gives the facials, one of her daughters colors and styles hair and her other daughter adds the finishing touches as a make-up artist.
Jennifer A. Makaw, Print Charming Graphics, LLC, (Northport) Graphic Designer/Product Design. Jennifer is the Art Director/Designer for Prints Charming Graphics. Jennifer spoke of her lovely designs and how she loves seeing them on display in stores. Her areas of expertise are in Licensed Product Design, Invitations, Announcements Stationery, Graphic Design. She designs cards for industry, small business and personal use, she also designs announcement cards. Jennifer will be bringing in samples of her work at our next meeting.
As an invited guest, we had Ms. Bridget Pirinea of Continential Home Loans in Melville. As a mortgage broker, Bridget spoke of the different aspects of a mortgage. Members found Veteran Mortgages most interesting. Under Current Government Regulation a Veteran can receive financing which allows for purchase of a mortgage with no money down, all fees covered. In addition, Veteran mortgages are without monthly insurance fees. Quite a savings, yet all agreed, well deserved.
Another Guest was Karen Ernheart, owner and operator of Shampooch in Bethpage. Karen's love for dogs was evident in each story she told. Her caring for and grooming of dogs is of the highest standards. Any animal spending time at Shampooch is attened to as a special guest of the most exclusive hotel with the best of service and facilities. What lucky dogs to be treated with such love and care!
Rosemary Serra, President of the Nassau County Local Chapter spoke of her company, Leavem Breathless. Her company operates under the woman's skin care line known as Everlasting Beauty Skin Care and men's skin care line as EB Skin Care for Men. Rosemary gave each attendee full size products in a lovely carry purse. One product was Vitamin C&E Rejuvenating Serum and the other was Hydrating Sculpting Creme. She spoke of the effects of the product and informed all as to how to use them for maximum results.
For more information on the Nassau County Chapter and/or The National Association of Professional Women, please visit http://www.napw.com.
Follow us on Facebook and Twitter
###