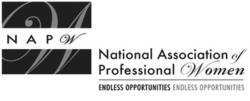 ...just like last meeting, we spent most of the time introducing ourselves and getting to know each other.
Garden City, NY (Vocus/PRWEB) February 25, 2011
The Omaha Chapter of the National Association of Professional women introduced three newcomers in the month of September.
"Just like last meeting, we spent most of the time introducing ourselves and getting to know each other," Teresa O'Grady, Chapter Member, said.
Kristine Casart, Account Ability, Inc, Spoke to the group about her trip to Sweden.
Ashlee Sackett, ConAgra. was excited about her new products on the market and her participation in the United Way campaign at the ConAgra campus.
Carolyn Olson, also of ConAgra, told the chapter about her work with Finance and Procurement at ConAgra.
Kristin DeKay, Image Made, spoke to the group about her business experience.
Sharon Schumacher, Primerica, spoke about the work she does for Primerica and how she can instructs her clients in financial fitness.
Teresa O'Grady, Smith Hayes Financial Services, spoke about her 20 plus years in the financial industry, her four children and her favorite hobby.
Alyson Roach, American Red Cross, told the group about her job as a Resource Generalist and her roll in the United Way Campaign.
The Omaha Chapter discussed living and working in the city of Omaha and each person's experiences and perception of the town. A large percentage of the chapter members come from outside the city of Omaha but it was agreed that it's a great place to live, work and raise a family.
The group discussed the challenges of being a working mom and how difficult it is to balance work and quality time for your children. It was also mentioned that this might be the reason why more members are not able to attend monthly meetings.
The next meeting, held on October 27th, was called to order at 6:00 pm at Petrow's in Omaha. In attendance were Alyson Roach, Kristine Casart, Julie Hemmingson, Sharon Schumacher, and Carolyn Olsen.
Members discussed first jobs and early careers as an ice-breaker.
Kristine announced her intention to resign as President due to health concerns related to her pregnancy. The chapter discussed the succession process and decided to announce the opening to all chapter members via email. Individuals can nominate others or themselves. Based on the number of nominations, Kristine will proceed with selection and/or facilitating a vote. Kristine highlighted the "perks" of Presidency, including free membership. Carolyn inquired about additional leadership opportunities, such as a Vice President role, and Kristine said she will consult the by-laws.
The group brainstormed about increasing meeting attendance and reviewed the attendance record. 20 percent of those on the membership list have attended a meeting.
Attendees discussed the concept of "managing up," or getting managers and superiors to take suggestions, listen to concerns, and take advice on action. Managing up requires communicating in ways that result in the desired action or permission from one's manager. Techniques include framing ideas in terms of "we" instead of "I" and documenting conversations as the progress through chains of command. Members disclosed circumstances in which they needed to go "above the head" of an unresponsive colleague.
The next topic of discussion was the pros and cons of accrual versus cash accounting and the types of organizations, structures, and software applications that are appropriate for each. Accrual accounting can be difficult to execute, but is often beneficial to the organization. Cash accounting may make it more difficult to identify and/or easier to conceal problems when unpaid invoices pile up. All agreed that the quality of the accounting software interface and the competence of the staff affect the feasibility of accrual accounting.
Members discussed ways to impart the value of responsibility and time management skills to teenagers and how parents' and peers' habits influence theirs. The group compared their time management skills and work/study habits as teenagers to those of their kids. Also noted was the impact of brain development, birth order, natural aptitudes, and gender on the development of these skills.
The chapter concluded with a discussion on natural aptitudes and learning styles, math vs. accounting skills, and abstract vs. concrete thinking and learning styles. They concluded that technology and self-consciousness about abilities can lead people, particularly women, to doubt their mathematical and concrete thinking abilities.
For more information about The Omaha Chapter and/or The National Association of Professional Women, visit http://www.napw.com.
Follow us on Facebook and Twitter
###