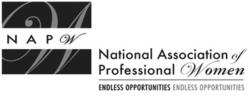 She was simply exemplary, and provided a most rewarding experience for the group
Garden City, NY (Vocus/PRWEB) April 19, 2011
Elizabeth China NAPW Chapter President for Philadelphia launched the first meeting and Luncheon at the downtown Marriott Hotel on Thursday, April 7th at 11:30 am until 2:00 pm. The speakers at the event included Veronica L. Strauss, CLTC, CFBS, Financial Planner and Special Care Planner for Mass Mutual Financial Group, the Blue Chip Companies, and Maria Vega, Asthma Care Coordinator for HPC Building Connections to Health, Health Promotions Council of Southeastern Pennsylvania, Inc.
Veronica spoke about financial planning and the idea of saving before you start spending. She also addressed attaining goals, achieving dreams and motivating oneself to start financial planning as early as possible. Veronica encouraged members not to depend on anyone else to secure a financial future, or in making investment and financial planning decisions. She warned that relying on someone else is unrealistic. She provided a description of several plans to fit one's profile and budget.
Maria spoke to the Chapter about allergies and healthy medical solutions for coping with Asthma.
Aisha China, Graphic Art Designer, documented the minutes of the meeting.
Judith Lee, NAPW Chapter President for Chester County, took photos of the meeting. Judith's business is in Industry Communications. She is the owner and principal consultant of Communication Works Now, which specializes in Social Media and online communications for small businesses and non-profit groups.
Elizabeth China, Philadelphia Chapter President, spoke about building power for success, starting from the inside out. She encouraged members to start tearing down distractions and replacing them with boundaries that are built from positive motivation, encouragement and shared responsibilities. Elizabeth shared her belief in the value of every precious life, and that a positive attitude holds the power to success in family life and in business.
The meeting continued with social and professional introductions by each member and guest in attendance. Each person shared information about their unique professional skills.
Beatriz Nunez is the President of Concepto SB Advertising. Her company provides web and graphic design with a Spanish option offered for all services and products.
Mona Slivar works for the Business Deaf Communication Services, Inc.
Alisa Melekhina is a full time student at Drexel University and a competitive chess player. She has competed in international tournaments in over ten countries and 15 states. She has represented the US team in eight consecutive World Youth Competitions, won a gold medal in Ningbo, China in the Women's World Team Champtionships and placed 3rd in the US Women's Championships held in St. Louis in 2009.
Shawnik Rice is the Senior Director of Family Services at the YMCA.
Aisha China is a Graphic Art Designer.
Marsha E. Thrower is a board member for Liberty Resources.
Kerri Myatt is the owner of Kerri Myatt Acupuncture and Herbal Medicine, LLC. She is a practitioner of Oriental Medicine, licensed in Pennsylvania and California and at a national (NCCAOM) level.
Gail Williams is an Independent Distributor of wellness products for Shaklee Corporation.
Veronica Strauss concluded the event with a deep relaxation to encourage stress management.
"She was simply exemplary, and provided a most rewarding experience for the group," said Elizabeth China, Philadelphia Chapter President.
For additional information regarding the Philadelphia local chapter and/or NAPW, please visit http://www.napw.com.
Follow us on Facebook and Twitter.
# # #