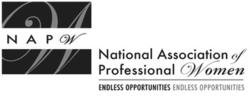 "What do our members want, how can we get them more involved in the NAPW process, and how can we make them aware of what the NAPW website has to offer?"
Garden City, NY (Vocus/PRWEB) February 26, 2011
The Phoenix Chapter will meet the first Wednesday of each month at the Mayo location of DeVry University from 5:30pm-7:00pm.
Jacque Miller, Phoenix Chapter President, opened the meeting by welcoming everyone then briefly speaking about the NAPW and the benefits of membership. Members were introduced and there was an open discussion concerning chapter growth and getting the word out to increase attendance. Jacque also handed out the notebooks and pins that were sent by the NAPW for members.
Members in attendance included Amy Altshuler, a Lawyer with Lewis & Roca LLP; Virginia Hershaft, TUTOR DOCTOR; Jacque Miller, Behavioral Nutritionist; Cathy Smith, Data Bill and Sharon Cadle of SC Health Solutions.
Sharon Cadle shared the results of a teleconference with Jacque & Cathy Smith.
"What do our members want, how can we get them more involved in the NAPW process, and how can we make them aware of what the NAPW website has to offer?" Sharon asked the group. Sharon fielded questions and comments from attendees and there was a very productive brainstorming session.
It was decided that each member will take responsibility, via their own social networks, to get the word out for better attendance and to invite guests that are not yet members. Amy and Virginia shared the list of members that are local to Phoenix. Each person will be reaching out to personally invite them to the next meeting. Cathy will also be contacting other chapters around the country to gain insight and advice on how to get up and running. Jacque closed the meeting at 6:45pm.
For additional information regarding the Phoenix local chapter and/or [NAPW please visit http://www.napw.com.
Follow us on Facebook and Twitter
# # #