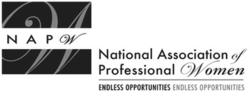 "New member, Alyssa Brunatti, who has an online business, may take the spotlight on '15 Minutes of Fame' at an upcoming meeting."
Garden City, NY (Vocus/PRWEB) February 25, 2011
Susan Bosco, Dierdre Krymski, Niki Ratcliff, Olena Kovalenko, Beth Lynch and Beth Nord were in attendance for the NAPW Pittsburgh Chapter meeting.
Susan Bosco, Chapter President, announced that per the NAPW National Director, the link to the minutes on the national web site had been corrected; however, it had not been verified by the members present. Susan suggested members be more active in communicating and posting comments on the national web site. Present members agreed. Susan suggested having a webinar broadcast of our meetings in order for other local and national members to participate.
Niki Ratcliff announced a seminar about women and finances, to be held on November 1st, 2010. It was agreed to have a similar seminar for NAPW Pittsburgh Chapter members some time in January and Beth Lynch offered to take the lead. Members agreed it was a great idea and could potentially attract more attendance at meetings.
The members discussed the NAPW National Conference which would be held in New York City on April 29th. Everyone in attendance showed interest in finding out more details about the event.
The group discussed and agreed to have a social gathering on December 16, 2010. Olena Kovalenko offered to find a venue.
Susan introduced new member Alyssa Brunatti.
"New member, Alyssa Brunatti, who has an online business, may take the spotlight on '15 Minutes of Fame' at an upcoming meeting," she said. Susan also announced a raffle give-away of business services and products by the National Chapter for any members who were interested.
Dierdre Krymski mentioned a link she posted on http://www.napw.com regarding an interesting article concerning the importance of networking for women. It was suggested that members read it.
Presentations for the upcoming meeting were discussed. Beth Lynch would present her profile on the "15 Minutes of Fame" at the next meeting on November 18, 2010. Niki Ratcliff presented information on NAPW's Star 12 program and it was decided to have a more detailed presentation at the next meeting.
After the meeting agenda was satisfied, the members spoke amongst themselves as a group on both professional and personal levels. It was agreed that the next meeting would be held on November 18, 2010 at the same location in order to accommodate members living in North Hills.
Find out more about the Pittsburgh Chapter and/or The National Association of Professional Women, please visit http://www.napw.com.
Follow us on Facebook and Twitter
###