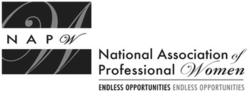 "The chapter needs all members' participation and insight..."
Garden City, NY (Vocus/PRWEB) February 25, 2011
President Susan Bosco kicked off the meeting by introducing herself and greeting two new members, Diane Lindblade and Christine Graham. Susan introduced the officers of the Pittsburgh Chapter: Olena Kovalenko, Meeting Minute Officer/Social Director, Deirdre Krymski, Director of Public Relations, Janice Milliner, NAPW PGH Website Director, Kelly Ann McMillin, Director of Social Media, Beth DeSimone, Director of Membership Presentations, and Niki Ratcliff, Director of Education. Upon introduction, Susan reinforced the need for all members' participation.
"The chapter needs all members' participation and insight and titles of officers are to not limit member participation," Susan said. She gave a special thank you to Beth DeSimone and Niki Ratcliff for their presentations to follow.
In-house topics opened with the importance of using the NAPW website's Pittsburgh Wall to stay informed of upcoming events and to increase traffic and interest.
The 2011 NAPW National Conference was officially announced. Members lightly discussed traveling to New York to attend and possibly share hotel rooms. Pittsburgh Chapter intends to explore cost-effective options to for those who wish to attend.
The first NAPW Pittsburgh Chapter social mixer will be held at Bossa Nova located in the Cultural District downtown Pittsburgh on December 16, 2010 starting at 5:30 pm. Members are invited to bring friends to enjoy an evening to network and socialize with Pittsburgh's finest professional women. Deirdre and Olena had planned to create a flyer to send to all existing members. The flyer included directions and parking to raise awareness of the event. Once completed, Deirdre submited the flyer to Janice Milliner to post to the website.
Beth DeSimone presented the chapter's first "15 Minutes of Fame" which highlighted the individual member and raised awareness of the business resources offered by the NAPW. The intention of the "15 Minutes of Fame" initiative was to incorporate a template into the chapter meetings that would allow each member a spotlight. Beth provided an outline of how the presentations would be conducted to all in attendance. The group reviewed the outline before Beth began her own presentation. The chapter emphasized the importance of keeping all presentations on a professional tone. Personal information could be contained in an introduction biography. Beth's presentation journeyed through her professional career to her full time position as a Certified Financial Planner at Schneider Downs.
The second presentation was by Niki Ratcliff, Director of Education, reviewing the Star12 benefits. She informed the group that Star 12 was meant to implement learning resources and provide tools for skill enhancement. These benefits are available to NAPW members at a discounted rate. The presentation reviewed the online 24/7 access to a vast library of resources for today's professional women. Members were provided the Chapter's contact at Star12, Stacy Winters of National Seminars Group. Kelly Ann voiced her experiences of attending Star12 seminars and encouraged members to attend. Niki Ratcliff asked for all members to share Star12 seminars they attend on the NAPW website to encourage others. Reviews and feedback posted on site was also discussed to foster encouragement for members to continue their professional development.
The meeting wrapped up with Beth DeSimone opening the floor to those interested in "15 Minutes of Fame". Dena, Janice, Felicia, and Deirdre expressed interest in presenting at a future meeting.
For more information on the Pittsburgh Chapter and/or The National Association of Professional Women, visit http://www.napw.com.
Follow us on Facebook and Twitter.
###