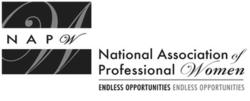 "Only six members were able to make it. While we aim to see more faces, it actually made for a nice dynamic; members were able to chat, socialize and get business done at the same time..."
Garden City, NY (Vocus/PRWEB) February 26, 2011
The NAPW Pittsburgh Chapter meeting began at 6 pm on February 17th with 6 members in attendance. Attendees included Susan Bosco, Olena Kovalenko, Melody (Hamoa) Firmani, Brianne Brown, Kelly Ann McMillin and new member Ute Miller.
The Pittsburgh Local Chapter had fun in an intimate setting at the downtown Double Tree hotel.
"Only six members were able to make it. While we aim to see more faces, it actually made for a nice dynamic; members were able to chat, socialize and get business done at the same time," said Susan Bosco, Chapter President.
The group welcomed a new NAPW member Ute Miller and introductions were made. Ute stated that she is an expert in Residential Real Estate. She handles professional and customized services for buyers and sellers in the Greater Pittsburgh region. She also has expertise in relocation, is a new construction specialist and manages first time home buyer services.
The group discussed possible new locations for future meetings to encourage better attendance among members. The Chapter took convenience, cost, parking, and easy access into consideration. The topic was adjourned until other options could be more thoroughly researched.
Olena Kovalenko talked about scheduling the Pittsburgh Chapter's next social mixer. It was decided to have the social event on April 21st, 2011 in place of the regular meeting. Olena agreed to look into possible venues for the event. Olena works in Human Resources for the Iron Workers of West Pennsylvania and has served as the Chapter Recorder since September 2010. Olena also regularly helps out with the chapter's social meet ups.
The chapter also appointed a new Press Liaison, Dena Heinlein to replace Dierdre Krymski. Dierdre was not able to attend the meeting and did not communicate interest in maintaining her position to the president Susan Bosco, nor to any of the Board members. It was unanimously approved to offer the position to Dena, who agreed to take on the responsibilities. The Press Liaison serves as an intermediary between the group, NAPW's corporate offices and the public. The chapter was excited to welcome Dena into the position.
Melody Firmani gave a "15 Minutes of Fame" presentation. She is the Client Service Director for American United Life/One America whose principal products include life insurance, annuities, and retirement planning. Melody shared on her career journey and her expertise on logical retirement planning.
Kelly Ann McMillin offered to organize an exchange of resources between the members, such as books, audio tapes, etc. Kelly Ann will also be responsible for setting up LinkedIn subgroups for Pittsburgh Chapter members based on common interests.
Susan Bosco discussed Dulce Miller's invitation to attend Canon MC professional young women's club meeting on February 23, 2011. No members present were able to attend on the date and Susan agreed to ask for other available dates.
The group discussed an email received regarding the first NAPW Conference on April 29th, 2011. Several members expressed interest in attending the conference and the group planned to discuss further.
The next meeting was scheduled for March 17, 2011. The meeting adjourned at 8:20pm.
For additional information regarding the Pittsburgh local chapter and/or [NAPW please visit http://www.napw.com.
Follow us on Facebook and Twitter.
# # #