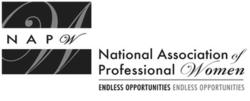 I joined NAPW in hopes of expanding my professional network and for an opportunity to share different experiences with other successful women
Garden City, NY (PRWEB) May 25, 2011
The Raleigh-Durham Chapter of NAPW met on May 17, 2011 at Caribou Coffee in Raleigh, NC. In attendance at this meeting were Sandi King, Samantha McAuliffe, Annie Therrien, Jean Barnes, Randi Stewman, Jackye Lee Smith, Margaret (representing Lenora Ucko), Joyce T. Boone, Amy Ford, Beth Reeves, Kathryn Hare, Janet Fox, Cathy Gebhart, Vanessa Bennett, and Nancy T. Nguyen. This was the first meeting for Lenora, Joyce, Amy, Beth, Kathryn, Janet, Cathy, Vanessa, and Nancy.
Ms. Joyce T. Boone is the Founder and teacher at Tutorial- ½ Christian School, which is a non-profit organization. Joyce has thirty-two years of experience as an elementary teacher of grade levels K-9. She joined NAPW for networking opportunities and to be of help to others.
Ms. Beth Reeves is an Arbonne Independent Consultant. For more information, please visit http://www.arbonne.com.
Ms. Kathryn Hare is a Facility Security Officer at Cisco. Kathryn was in the U.S. Navy for twenty years and retired in 1993. She has been working in industrial security for over fifteen years.
"I joined NAPW in hopes of expanding my professional network and for an opportunity to share different experiences with other successful women," said Kathryn.
Ms. Janet Fox is a Financial Consultant at ACH Investment Group, Inc. Janet is the President of ACH Investment Group, Inc. as well as a Financial Planner. She assists individuals as well as businesses with investments and insurance needs to help her clients meet desired goals and objectives. Janet received her MBA from Fordham University and she teaches classes for Wake Technical Community College in the Business Department. Janet joined NAPW to be affiliated with local and professional women.
Ms. Vanessa Bennett was a Senior IRB/Regulatory Coordinator and is currently a Business Manager at S+M Seamless Gutters, Inc. She has over ten years experience working in various aspects of clinical research and research studies. Vanessa has always wanted to join an organization of professional women.
Dr. Lenora Ucko is the Executive Director of Stories Work. She has a PhD from Ohio State in Anthropology with a thesis on Women's Roles in African Culture. Dr. Ucko was an Assistant Professor at Adelphi School of Social Work. She was also an Adjunct at UNC School of Social Work. Dr. Ucko also provided training at Fort Bragg for military personnel. She has joined NAPW to meet other professional women, for networking opportunities, as well as to exchange different ideas.
Ms. Nancy T. Nguyen is the Owner and Operator of Sweet T Salon. She attended DePaul Graduate School of Business, NC State University for Spanish and Criminology, and the International Institute of Hair Design. Nancy is a trilingual visionary entrepreneur (Spanish, English, and Vietnamese). She won Miss Corporate America in 2011. Nancy joined NAPW to connect and learn from professional women.
The meeting opened with each member providing a brief introduction about themselves and their businesses. Jean introduced ideas about volunteering and organization opportunities which she and Anji Saunders researched since the last meeting. Nancy offered to sponsor a community outreach event to updates women's resumes. Amy Ford suggested participating as a team in the Alzheimer's fundraising walk occurring in September 2011, at the Durham Bulls Stadium.
Samantha suggested Committees for the NAPW Raleigh/Durham Chapter including a Speaker Selection Committee, Social Committee, Community Outreach Committee, and Membership Committee. Samantha showed the Chapter a marketing brochure from NAPW and stated that we had a budget of $100 per month, if we want to recruit or participate in events.
Samantha asked for volunteers to chair different committees. The group agreed that having a Fundraising Committee was not desired. Vanessa and Nancy will be a part of the Media Committee, to create a Facebook and Twitter page, in order to recruit additional members. The Outreach Committee will be chaired by Jean and Amy. The Membership Committee will be chaired by Cathy Gebhart. The Social Committee will be chaired by Amy Ford. The Speaker Selection Committee will be headed by Lenora Ucko and Vanessa Bennett. Each committee will be responsible for providing a clear role and committee goals.
The meeting concluded with reminders for the group. Samantha reminded everyone that Anji Saunders will conduct a workshop on cosmetics and makeup application for the June meeting. Margaret suggested that Dr. Lenora Ucko give a presentation of Stories Work at the July meeting.
For additional information regarding the Raleigh-Durham local chapter and/or NAPW, please visit http://www.napw.com.
Follow us on Facebook and Twitter.
###