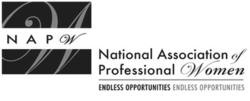 "Speaker Amber DeAnn of Mind Emotion Harmony, will be talking about stress reduction."
Garden City, NY (Vocus/PRWEB) February 26, 2011
The Sacramento Chapter held two meetings in the month of August. Sharon Darrow, Sacramento Chapter President, opened each chapter meeting by welcoming everyone in attendance, then briefly speaking about the NAPW. She reminded everyone of the importance of keeping their email information current so that renewal information would be received on time. Sharon then passed around the latest Sacramento chapter list, a copy of the "Refer a Friend" page and the Member Benefits page from the website.
"Speaker Amber DeAnn of Mind Emotion Harmony, will be talking about stress reduction," Sharon said before starting individual introductions.
During her address to the chapter, Amber promised the chapter they would learn tips on "busting stress" and making business decisions without having to use their brains, and while having fun. She started out by defining stress as the perceived inability to deal with a situation, leading to worry and even physical disease. The key is that this perceived inability is all in a person's head. Generally, people make business decisions using a variety of methods: determination the pros and cons; analysis of the possible benefits; seeking outside advice; determine the choice leads in 10 years.
Amber told attendees that making a decision with only logic can cause a never ending cycle of uncertainty, eventually stalling people with the equivalent of a computer freeze.
"People simply get stuck," she said. Amber advised a different course to get away from that state and help find answers by instead using emotions and intuition. She then took the group through exercises to demonstrate relaxation, clear their minds, energize, and open up. First the group tapped their knees in rhythm together based on Amber's lead. Next members stood with a partner, faced them eye to eye and stamped their feet in place while swinging their arms across their bodies. After that, all were feeling relaxed, happy and ready for the next thing.
The group was then asked to close their eyes and as they were led into a "theta state", and our personal "safe place". This peaceful yet powerful exercise helped members experience what hypnotherapy feels like and helped them find a state where their minds provided them with answers without stress.
Deborah Finn, of Artistic Staging and Redesign, specializes in giving homes the "wow" factor that can help it sell more rapidly than the competition. She also redesigns homes, which is a great help for families that are combining two households into one, or for families that are downsizing or relocating.
Elena Eckert, of E & M Services, has expertise in accounting, federal and state taxes, and immigration. She has her law degree but is it not yet a practicing attorney. As a recent immigrant from the Ukraine, Elena wants to assist other women and families new to the US.
Anne Sandler, of Pizazz Communications, attended as a guest of Amber DeAnn. She helps people create success through her skills as a speaker, writer, coach, and editor. Anne is also active in the Placer Women's Network and invited everyone to join them at their regular monthly meeting at the Spaghetti Factory in Roseville on the 2nd Tuesday of each month from 11:00 to 12:30.
Linda Melody, PrePaid Legal, helps people obtain affordable access to legal services. PrePaid Legal helped her recently when she was charged 2½ times a written quote by a moving company. She had to pay to get her things, but then was able to get the legal assistance needed to handle the situation.
Helena Fisk, of the Sacramento S.B.D.C., Small Business Development Center, works hard at helping that group assist people who are starting businesses or who just want their businesses to be more successful. She reminded everyone to check out the website, http://www.sbdc.net for complete information on the wide range of services. They now have over 17 consultants, and offer a variety of workshops for only $40 each.
Janet Moe, a retired music teacher and current organist of the Good Shepherd Lutheran Church is on the Sacramento Community Concert Association. As a board member she works hard to bring wonderful music to the community at very affordable prices. The Concert Association is currently offering a new series of five concerts for $90. The concerts offer an incredibly diverse collection of artists.
Amber DeAnn, of Mind Emotion Harmony, is a hypnotherapist, writer and author. She is also now writing a movie script and looking forward to getting it developed.
Susan Harke is both a mobile notary and CPA. She said she likes to travel to her customers rather than have them come to her. She had been a PrePaid Legal subscriber for a long time and had both good and bad experiences.
Marissa Eldreth is the founder and CEO of BizWiz Consulting & Marketing. In 2008 she decided to help non-profit organizations as well as businesses. She has created a consortium of businesses and non-profits to help one another and the public. She is also working with another group that is building a free clinic.
Marissa's mother, Magdalena Orozco, came as a guest and charmed everyone with a short talk about her colorful history. Magdalena recently retired after being a teacher and professor for 36 years, during which she taught every level from elementary through university. She also had a 30-member dance troupe with professional dancers and singers. Magdalena was imported to California to teach in 1968, starting out at a Marysville High School, where she was amazed to find out that kids couldn't read or write. She then switched to teaching 8th grade, where she shocked parents and staff alike by refusing to pass kids who didn't deserve it. She failed 10 students the first year but then became good friends with those families who appreciated her concern for their children's education.
Colene Sawyer Schlepfer, a therapist and author, does couples counseling together with her husband. Her book, "Fishing by Moonlight", is designed for lay people to help their relationships. Colleen is involved with a non-profit organization that started out as the Healthy Marriage Project, but is changing its name to the Relationship Skill Center.
Rebecca Ward has been designing for about ten years, and has owns her an interior design firm, Rebecca Ward Design. She does all types of interior design work for both residential and commercial clients.
June Azevedo, owner of Azevedo Print & Design, has been in the printing industry for over thirty years and can help with any type of printing job or challenge. She also gave a ringing endorsement of what she has learned from classes and consults at the S.B.D.C.
Bonnie Terry, of Bonnie Terry Learning, helps parents give their children a two to four year advantage in school in only twenty minutes a day. Her company provides many different types of activities for all types of conditions, with a wealth of information available on her website and webinars.
Evette Smith, of Therapeutic & Sports Body Works, Inc, is a clinical bodyworker, therapist, and aromatherapist. She helps people on a cellular level to correct imbalances in their bodies and their homes. She is passionate about helping people, and has been able to help many more from her new office in midtown.
Jacinta Dickens, of Mind over Matter, is a hypnotherapist and energy worker. She helps heal people with both physical and mental problems. She is doing very well in her new office in Arden Arcade, especially after her friends helped with a paint party.
Sonia Lewis, of Ascribe Educational Consulting, is a former High School teacher who now is an educational consultant. Her company hosts monthly workshops to help high school kids transition to the real world. This month the theme is helping them discover the career they could love, rather than just getting a job. She is also now a new agent with AFLAC.
Terry Burke Maxwell, of the Maxwell Group, has a small publishing company that is expanding into areas outside of her own educational materials. She is now working with several people doing their own stories. Recently she has had some web challenges, including a need to change the focus off her domain name which comes up with links to an escort service.
Dana Jacques, an OB/GYN physician, is now in business for herself so she can spent time with her patients. Educated in New York, but recently from Wisconsin, Dana loves working with women and takes special interest in women with bleeding issues or abnormal pap smears. Her biggest challenge now is learning the business end of having her own practice.
Mary Collins, is a published author and owner/manager of McCollins & Associates. Her most recent book, "He Lifts Me Up!" is about personal miracles. Mary is a cancer survivor, and is dealing with the challenges of a husband with 3rd. stage colon cancer. She works extensive with cancer research, and her goal is to develop a national directory of cancer survivors as a resource for others.
Sharon Darrow, of Travel ID Cards, has several unique products, KidsTravelCard, TeenTravelCard, AdultInfoCard, and the PetTravelCard, but she also creates custom plastic cards. Her newest product is designed to help individuals network more effectively by creating a plastic nametag badge, with a strap clip, that looks like a business card. This is much classier than a paper name badge and helps new people associate the individual with the company, as well as "branding" the face with the badge.
For additional information on the Sacramento Chapter and/or the NAPW, please visit http://www.napw.com.
Follow us on Facebook and Twitter
###