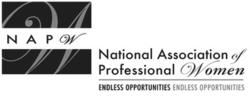 "Everyone, look at the words onthe bottom of the banner - Connect, Learn, Grow, Inspire."
Garden City, NY (Vocus/PRWEB) February 10, 2011
The Sacramento Chapter has two meetings, both a lunch and a dinner meeting, each month in order to accommodate the busy schedules of the members. For the sake of simplicity, both meetings have been folded into one in these minutes.
Sharon opened the meetings by welcoming everyone, then briefly speaking about the NAPW. She asked, "Everyone, look at the words on the bottom of the banner -- Connect, Learn, Grow, Inspire," -- and spoke about what those words mean in the organization. She then spoke about our Sacramento Chapter and the importance of each woman who attends, rather than the importance of each woman as a part of a business. Sharon then told everyone that the first NAPW annual convention has been scheduled for April 1, 2011, but will be limited to a total of 375 women.
The scheduled speaker for the lunch meeting was not able to attend, so each member had more time to talk and share. The first speaker was Helena Fisk, from the Small Business Development Center, or S.B.D.C. The S.B.D.C. is the consulting arm of the Small Business Administration, so all of the consultants have already been paid through our taxes. She was excited about a new program they are offering, called "Managing Your Business for Expansion". Helena then told everyone about something very exciting in her life. Her best friend from college had been diagnosed with the last stage of vaginal cancer, a very rare cancer with a high mortality rate. Helena's friend just had a new round of tests and was declared cancer free!
Robin Melzer, owner of Robin's Nest Family Fashion Boutique, attended for the first time. Her husband is now retired and works with her. Robin's boutique provides good quality merchandise (clothing, accessories, and lots more) at great prices. Her clothing is new, nearly new, and vintage. In addition to the boutique, she is currently gathering photos for a new magazine. Robin came to the local chapter for the first time with two guests, both of whom are working with her on a fashion show scheduled for 11/13 at the Guild Theater called "Hats In Mama's Closet".
Bridgette Carradine, one of Robin's guests and partners in the upcoming fashion show, trains fashion models and gives fashion shows. She teaches the models more than just how to walk a runway, working with them on everything from hair and make-up to building confidence and self-esteem.
Juana Blaze, Robin's second guest and partner in "Hats In Mama's Closet", is a singer with a new CD coming out with her original songs. She is providing the music for the fashion show, and will be contributing part of the proceeds from her CD.
Mrs. Tika, like Cher -- just remember the one name! -- is the owner of Delores Inc., and unique staffing and business development company. Delores Inc. helps small businesses get to the next level by assisting with their staffing needs in ways that other companies do not. They offer full benefits to employees, but only charge companies the actual employee salaries. Mrs Tika also is involved with another new business, "Quality Image" that helps people with make overs. Together they help people, both men and women, with their new image and then assist them in getting jobs.
Yoshiko Kage, owner of Living Fully Alive Now, offers Japanese Acupuncture and Herbal Medicine. She has been in America for 14 years, and specializes in pain management for women. She handles all types of women's issues, including detoxification. Yoshi's passion is movement based art, which includes body movement, drawing, and writing.
Sharon Donat calls herself a jack of all trades, but has actually been in the insurance industry all of her life. She just works part-time for Farmers now, but considers her autistic grandson both her passion and full-time joy. Family is the focus of Sharon's life, from her 91 year old mom, 4 super sisters, and 4 kids of her own.
Linda Melody, an independent representative of PrePaid Legal, reminded us that a bad economy means more potential legal problems for everybody! PrePaid Legal makes legal assistance available for everyone at reasonable rates. PrePaid Legal is also the only company with a system for full restoration after someone has suffered identity theft. Linda is also passionate about the Carmichael Chamber, and is very active in promoting all of their various activities.
Rebecca Ward has been an interior designer for about ten years, and owner of her own design business for two. Rebecca Ward Design is the perfect choice for the whole gamut, from paint color consultations through full redesign, including moving walls, etc. Rebecca is passionate about her church, Warehouse Ministries, "Operation Shoebox". She invited everyone to join her on Saturday for a packing party, where the shoeboxes would be filled and assembled for donation.
Dafna Gauthier, owner of Mindsets Business Consulting, works with all types of businesses from large corporations to small start-ups. She helps business to strategize for growth, and helps individual women to grow as large as their dreams and desires. Dafna has a TV show called "What is Your Mindset", and is a successful author. Her book, "New Kid On The Block", is an excellent guide for supervisors and managers.
Sharon was next and talked about her company Travel ID Cards. The company produces unique products (KidsTravelCards, TeenTravelCards, AdultInfoCards and PetTravelCards), plus custom ID badges for any type of organization or company. Sharon's passion is animal rescue, and she talked about the litter of kittens that was dumped on her by a neighbor. They are doing fine, but are definitely shaking up the household!
June Azevedo, of Azevedo Print & Design, is passionate about working with people and watching them get excited when their ideas take shape in print. She loves saving businesses money at the same time that she helps them be both more profitable and efficient with better printed materials.
Marissa Eldreth has been the owner of BizWiz Consulting since 2002, and has seen lots of growth and a variety of business experiences. She now works the business while taking care of her mom, who is now living with the family. Marissa is passionate about helping non-profit organizations, and her business focuses on putting businesses and non-profits together for the benefit of both. She told everyone about an event on 12/4 at the Placer County Fairground where they will be collecting coats and shoes. Marissa closed with a great formula: Diversity plus Discovery equals Unity!
Mary Collins, a cancer survivor, is now the Director of the newly created Foundation For Cancer Vaccines. She believes that the antibodies from cancer survivors can be closed to create Cancer Vaccines. Mary said that the foundation's mission is to create a life-saving directory that connects cancer survivors, patients and specialists. One suggestion given to Mary was to go to "guidestar.org", which is an amazing and comprehensive resource for non-profit organizations.
Lidia Marciel attended for the first time as a guest of Sue Harke. Lidia is a tax preparer, working with her husband, and is part of the Romanian community here in Sacramento. She works with both businesses and individuals, and is always looking for new clients!
Amelia Barz, owner of Bouquet Florist, also attended for her first time. Amelia has owned her shop since 2002, and offers a full range of services. In fact, you can come see Santa at their shop on 12!1 and 12!8, from 10 to 2. Amelia is multi-lingual, including sign language, which is very convenient for her customers. She markets her products in the shop and online, but a suggestion was given that she might benefit by using a marketing site called groupon.com.
Susan Harke wears two very big hats, as both a CPA and Mobile Notary. One of her goals as a CPA is to save her customers money, and she works particularly hard for people with IRS and/or Franchise Tax issues. One of the tools she suggests for her customers are the advocate offices for both the IRS and the Franchise Tax Board. Notaries are much more restricted in what they can do, since their only function is to verify the identity of the signer. She suggests that people who need a quick notary go to local UPS stores (not FedEx), since they have onsite notaries.
Terry Burke Maxwell reminded us all that she uses her full name for business because of similarities with other people and businesses online. She is an author of educational materials and a publisher. So far she has only published her own books, but is working with other people on other types of books. Terry told everyone about a new group called Northern California Publishers & Authors, that might be of interest and help for other author members. She also told us about a nine-day event for authors called "Authors Among Us", that is running from 11/27 through 12/5.
Autumn DeCosta, a brand new NAPW member and first time attendee, is a Life Coach. Someone asked for the difference between a therapist and a life coach, and Autumn answered that a therapist has you lying down, while a life coach has you sitting up! Autumn is truly a wonder woman with an awful lot of hats! She and her husband are both in the military (in fact, he just returned from deployment overseas -- YEAH!!!--), she has three teenagers, she is a coach with several different programs, and she is part of the Yellow Ribbon Reintegration program. This program helps military families cope with all of the transitions and demands when they learn that their family member is leaving, during the difficult months while the family is separated, and then again when the family is reunited. In addition to all of this, Autumn is passionate about working with girls as they go through the transition to womanhood, helping them to value themselves rather than just seeking peer approval.
Sandy Duveneck, recently retired from California State service, is trying to find her new niche. While in state service she was appointed by the governor and supervised literally thousands of people in various departments. She just finished working very hard on a local political campaign, and suddenly finds herself with enormous organizational and administrative talents but no outlet for them. She is looking for a charitable outlet for those skills that would be meaningful to her.
Dana Jacques has been an OB/GYN physician for thirteen years, but just moved from Wisconsin to Roseville last June. She is very excited to be an independent physician, and loves working with women of all ages. She says Wisconsin was wonderful and she loved her patients; however, ten winters there with two active little boys was enough! They love it here, and she loves the opportunity to build a new practice.
Our November meetings were different, since we didn't have a speaker. We had no problem filling in the void though, with lots of conversation, suggestions for one another, and just plain old-fashioned enjoying a room full of wonderful, friendly women. For all of those who haven't been able to come out yet, we hope that you can schedule time for one of the meetings in December.
For more information on the Sacramento Chapter and/or The National Association of Professional Women, visit http://www.napw.com.
Follow us on Facebook and Twitter
# # #