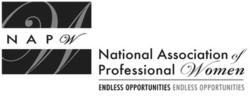 "I have been coming to the Local Chapter meetings for a good year or more, and it is a marvelous group!"
Garden City, NY (Vocus/PRWEB) February 25, 2011
The Sacramento Chapter has two meetings each month, both a lunch and a dinner,to accommodate members' busy schedules. A total of fourteen NAPW members and three guests attended two meetings held this fall.
Sharon Darrow, Chapter President, opened both meetings with a brief speech about the NAPW and the upcoming convention, taking place on April 29th. She reminded the chapter that she was video recording their introductions to assist in accurate meeting records. Videos would also be posted on the Facebook page and in order to protect everyone's privacy, she asked each person to start their introduction by stating whether or not they would agree to be featured online.
Linda Melody was in attendance. She is an independent representative of PrePaid Legal and discussed the legal challenges that have arisen due to the economy with chapter attendees. Members found it helpful that PrePaid Legal allows someone to call an attorney with questions and not have to face a big bill after hanging up. The service can even be a great benefit that employers can offer to employees. Linda pointed out that while there are a variety of identity theft protection plans, PrePaid Legal offers the only identity theft restoration plan.
Member Helena Fisk works for the Small Business Development Center, the consulting arm of the Small Business Administration, and does not charge for consultations. The SBDC helps small business with their needs, whether they are a new start-up with questions about getting going, or a business that has been around for awhile and needs help with upgrading websites, marketing, business plans, accounting, etc. Businesses can consult with the SBDC as frequently as needed.
June Azevedo owns Azevedo Print & Design and spoke about what she does for NAPW members and the general public. She has been in the printing industry for over 30 years and handles books, binding books, and virtually anything that needs to be printed.
Rebecca Ward, owner of Rebecca Ward Design, does both residential and commercial interior design. Primarily working in people's homes, Rebecca assists clients with new furnishings, reconstruction, paint colors and decor, lighting and anything else needed to perfect their home. Rebecca also services small offices and restaurants.
Autumn DeCosta is a woman's life, balance and transition coach.
"Sometimes we get so caught up in life that we forget ourselves. When we go to our friends or relatives for advice, they are working from their own agenda," she said. A coach helps people get out of their own way. Amber has three programs: IPIC, Imagine a Woman and Compass. Compass is an online coaching program which is great for busy women!
Elizabeth Rosen, owner of P.E.T. Your Dog, first apologized for being dirty, having come from the dog park. Elizabeth brought a little of the dog park enthusiasm with her furthering her legitimacy as a top dog trainer. She does training, pet sitting, boarding of dogs at her home, daily dog walking and dog park visits. She also offers products such as special harnesses, high quality treats and agility equipment.
Bridgette Carradine is the founder and director of Brigandis Fashion, an agency that takes on models of all races, sizes, shapes and backgrounds. They are planning their first big show on 1/22/11 in Oakland called Urban Fashion& Hair Flair. This show is the start of a ten-city tour. She is also the manager of a hip-hop artist, Juana Blaze, who will be appearing in the show.
Robin Meltzer is assistant director of Brigandis Fashion and co-manager of Juana Blaze. She is working hard on the upcoming show tour, which will be in Sacramento in April. Robin is also the owner of Robin's Nest Fashion Boutique.
Julie Alhuneidi owns A Nu You by Julie and is a Nu Skin distributor. She is promotes anti-aging and wellness and is a member of the National Association of Strength and Conditioning. Julie is also a board member of the American Lung Association AirWalk, held in May this year. She is very interested in health and helping people feel good both inside and outside.
Carol Siegner is a professional travel agent. She does groups, cruises, corporate, individual, and also is on the board of Professional Travel Agents and belongs to NATCA.
Lisa Cox prepares loan documents for Summit Mortgage and also is co-owner of a needlework store, Kelsey's Needle Kraft, on Main St. in Placerville. In addition, she has been a volunteer at the Shriner's Hospital for a number of years. Every Monday night she spends a couple of hours playing with children who need an opportunity to forget that they're patients and just be kids!
Jaynie Cavin, attending for the first time as a guest, helps people pay off debts. She helps individuals pay off student loans, credit cards and mortgages and other loans in one-third to one-half the normal time without refinancing and without changing their lifestyle. Jaynie was very excited to tell us that there is now a new program for groups. This programs allows groups to provide benefits to their members, employees or clients at greatly reduced cost while producing a small income stream for the group.
Dana Jacques is an OB-GYN physician, recently relocated from Wisconsin. She was in practice in Wisconsin for ten years practiced in New York City prior to that. Dana is now an independent physician in Roseville, which means that she can spend more time with her patients who are women of every age from teens to menopause. She was sponsored by Mercy San Juan to come out here and it has been a very nice partnership. They've supported her while she builds her practice, which means that she has been able to build it the way that works best for her.
Judy E. Pribyl-Jasperson is a finance director for Sodexo, a world-wide corporation. She manages all the finances for the hospital groups in the western eleven states. She joined the NAPW because when she moved to Sacramento seven years ago she didn't have any connection with the community at all. The NAPW enables her to connect with women in the community.
"I have been coming to the Local Chapter meetings for a good year or more, and it is a marvelous group," said Terry Burke Maxwell. Terry is an author, editor, and publisher. Her primary focus has been math education. She now publishes math books and workbooks but is also editing and publishing other authors' materials. She works with authors as a ghost writer. Terry also spoke about an author's group she's joined that has hosted local book fairs, providing a great networking forum for both authors and publishers.
Mary Collins is an author and the Director/Founder of the Foundation for Cancer Vaccines, which is working on a life-saving directory of cancer patients, cancer survivors who have antibodies, and medical specialists. The model was developed by heart and lung transplant specialists who found that they had to create a large pool of people to find appropriate matches for patients. Mary is an eight-year breast cancer survivor herself and her husband has colon cancer.
Sharon Darrow spoke about her company Travel ID Cards. The company produces unique products (KidsTravelCards, TeenTravelCards, AdultInfoCards and PetTravelCards), plus custom ID badges for any type of organization or company. Sharon offered information and tips regarding airline travel that most people might not know. She reminded members that anyone traveling internationally should contact the U.S. Department of State and register through their STEP (Smart Traveler Enrollment Program) program.
"This free program enters traveling information so that the State Department can better assist them in an emergency. The website for this program is https://travelregistration.state.gov/ibrs/ui/," she said.
Sharon also mentioned the TSA (Transportation Security Administration).
"With so much confusion about the infamous body scanners in the news, it is worth the time to go directly to the TSA website, http://www.tsa.gov/, which has a wealth of information for travelers, including the body scanners. The TSA site also has in depth information about how to get through the lines faster, the actual rules for liquids in carry on baggage, acceptable identification, prohibited items, traveling with food or gifts, and traveling with children or people with disabilities or medical conditions," she said.
Sharon referred the group to http://www.ifly.com/ and explained the myriad features and benefits for travelers. Sharon spoke about the importance of travel insurance and explained how policies vary widely and that Ifly.com is a good place to start gathering information.
Sharon also suggested http://www.airfarewatchdog.com to check baggage fees and requirements.
For additional information regarding the Sacramento local chapter and The National Association of Professional Women, please visit http://www.napw.com.
Follow us on Facebook and Twitter.
# # #