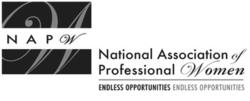 I've already made lots of connections and I'd recommend the group as a great way to meet a lot of women in the area...
Garden City (Vocus/PRWEB) April 10, 2011
Sharon opened the meetings by welcoming everyone, then briefly speaking about the NAPW. She spoke about the upcoming convention, which has been changed to April 29th.Sharon reminded everyone that uses a Flip video camera for everyone's introduction to assist in accurate minutes and also for videos that can be posted on the new Facebook page. During the evening meeting Sharon reminded members that the NAPW serves women of all ages and professional stages, pointing out that her family was represented by three generations of powerful women, including her mother (June Azevedo of Azevedo Print & Design) and her daughter (Sheryl Wilson, a full-time mother of twins getting ready to re-enter the work force).
Rebecca Ward, owner of Rebecca Ward Design, does both residential and commercial design. She does the full range of interior design services, from paint color, new furniture, layout updates, etc. Just give her a call and she will come out to your home and help you.
Amber DeAnn is the owner of Mind Emotion Harmony. She does life coaching to help empower people, and also does hypnosis to remove blocks from old programming and patterns. When the old material has been cleared out of the way, she can then teach individuals new skills for the future.
Marissa Eldreth is the owner of BizWiz Marketing and Consulting Solutions, but also shared some exciting news. She has now launched her new magazine called "City Connect International". Everyone is included; nobody is excluded, so Marissa welcomed everyone to come take a look. She announced their first international festival on May 21st in Roseville, and she brought application forms for anyone who might like to be an exhibitor.
Helen Dang is a Real Estate advisor who works in two capacities. The first is traditional real estate transactions, which she has been doing for over eight years. The second is working with a resort developer. They currently have two projects: one in San Felipe, Mexico and one in Arizona. Both are doing very well, and she would love to have the opportunity to get to know everyone and invite them to presentations for the resorts.
Julie Alhuneidi is the owner of A Nu You by Julie and is a Nu Skin distributor. Julie believes in helping women improve their health, skin care, nutrition and their anti-aging options by understanding what is available. She is very excited about her company, which has been around since 1984 and is always in the top 100 most trustworthy midsize companies per Forbes Magazine. Julie has instituted a new monthly spa party at A Nu You, where women with very small, yet invaluable, businesses can network while enjoying a facial, massage or other relaxing treatment.
June Azevedo, of Azevedo Print & Design, says it is her pleasure to make people look good on paper, on TV, or in whichever media vehicle you choose to advertise.
Barbara Lawrie, owner of BTL Designs, is a graphic designer with nearly forty years experience. She specializes in designing websites, ecommerce, advertising, marketing materials, advertising campaigns, brochures, fliers and posters. If it needs to be printed, they can do it!
Linda Spencer has been a consultant with Mary Kay Cosmetics for 2-1/2 years, helping women with make-up, as well as offering women an opportunity to make extra income.
Jessica Delich is currently with a small, woman-owned environmental consulting firm called Area West Environmental. Her background is in environmental consulting and marketing. Jessica expressed excitement about the NAPW local chapter, and compared the supporting atmosphere to another group she belongs to, Women In Transportation Seminar.
Dana Jacques is an OB-GYN physician, who recently relocated to Roseville from Wisconsin. As an independent physician she is not part of any big group and can spend more time with her patients and practice medicine the way she wants to. Dana has been out of residency for fourteen years and started her own practice because she felt it was time to move in another direction. She loves taking care of women of all ages, and loves being a part of this group.
"I've already made lots of connections and I'd recommend the group as a great way to meet a lot of women in the area," Dana said.
Jaynie Cavin started off with a question, "Would you like to be out of debt sooner rather than later, including your mortgage"? She said if your answer is yes, you need to talk to her about a way to pay everything off years early without changing your lifestyle. Jaynie also would like to hear from anyone who knows a big organization or company that would like to offer this system as a benefit to their employees. She said one of the biggest medical problems today is stress, and this could be a great way to relieve that.
Sara Lopez, owner of SGL Enterprises, is an independent business owner and distributor of the Amway Global products. This line includes everything for home, personal care, make-up and cosmetics and health. It is an extensive line for practically everything imaginable. The great appeals of Sara's line are the stress relief products and the ability to shop online at your convenience. Her personal passion is for the health and wellness line, which includes both education and products. The current campaign, "The Unstoppable You" is all about health and the best products for each individual.
Marie Wilson is a consultant for a company called "Market America". She invited anyone to join as a preferred customer under her to save huge amounts of money when shopping from regular department stores. She talked about her wanting a blanket from JC Penney's that cost $89, and then purchasing it online through Market America for $39 -- the same blanket! Marie also has many other talents and interests. She has traveled around the world, and is a writer. She has written and published many books and magazine articles, and is looking for assistance in publishing her first fiction book.
Susan Harke is a double professional, both a mobile notary and a CPA. She particularly enjoys being a mobile notary for someone in a nursing home or someone who can't get out of his or her house. In fact, if she receives a call for a single signature for someone who has a car, they will be directed to the nearest UPS store! As a CPA she specializes in tax returns for businesses and individuals. She doesn't do corporate tax returns, but can learn if she has to. She can help with IRS and Franchise Tax Board issues and says that the Franchise Tax Board is actually more complicated.
Sheryl Wilson, Sharon Darrow's daughter, attended for the first time. For the past ten years she has had the best job in the world as the mother of twin boys. During that time the boys, diagnosed as autistic, went from not talking, head banging till they bled, etc., to being fully integrated in regular school and participating in scouts, soccer, football, and baseball. She had to give up her career to devote her life to the kids, but it's the best payoff. Sheryl is on the board for several of the sports teams and involved as a safety officer and fundraiser, having fun and getting lots of new experiences. Now she is looking forward to rejoining the work force.
Mary Collinsis an author and the Director and Founder of the Foundation for Cancer Vaccines, which is working on a life-saving directory of cancer patients, cancer survivors who have antibodies, and the medical specialists. Mary is an eight-year breast cancer survivor herself, and her husband has colon cancer, so she has great motivation for working against this disease.
Sharon Darrow is the owner of Travel ID Cards and your source for ID cards for your business, your company, your organization or your sports team, with or without photos. She was wearing the Photo ID card she produces for NAPW members. She said that a great aid for networking events is for her to scan your business card and turn it into a plastic badge that can be worn to events, providing both your identity and helping with brand identification. Sharon said that the company core cards are special cards for travel, --KidsTravelCard, TeenTravelCard, AdultInfoCard, and PetTravelCard.
Our speaker for the month, Autumn DeCosta, is a woman's empowerment coach. She started her career a couple of years ago when she was promoted to an officer and she got married to someone who had teenagers. The resultant blended family was a major challenge because she and her new husband had totally different parenting styles. In order to help her cope she hired her first life coach and totally fell in love with the process. She became a coach herself, and explained the coaching process as helping women look at their life, determine where they want to be in the future and create a path to get there in a way that works for them. In addition to talking about what a life coach does, she led everyone through some beautiful, peaceful meditations that helped with grounding and providing a serene base for moving forward.
The February meetings clearly left everyone feeling great and very connected with each other, since the individual conversations carried on till the restaurant staff started clearing the room! Our March meetings will be held on March 14th at 12:30 and on March 28th at 6:30.
For additional information regarding the Sacramento local chapter and/or [NAPW please visit http://www.napw.com.