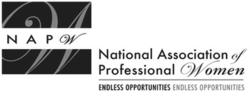 It is so nice to see so many familiar faces. I have been able to work with many of you in such a variety of ways
Garden City, NY (Vocus/PRWEB) April 15, 2011
The Sacramento Chapter has two meetings, both a lunch and a dinner each month, to accommodate the busy schedules of all members. While both meetings have the same agenda and speaker, it was interesting to see several people at both this month. Obviously, they enjoyed the speaker and the atmosphere enough to attend twice.
Sharon Darrow, Chapter President, opened the meetings by welcoming everyone, then briefly speaking about NAPW. She spoke about the upcoming convention, which will take place on April 29th, in New York City. Sharon also reminded everyone that their meeting introductions are filmed to assist in accurate minutes and, with their permission only, are also posted on the new NAPW Sacramento Chapter Facebook page. This month she talked about the different parts of the NAPW website membership tabs, including the application process, membership brochures, membership benefits, "Refer a Friend", the advanced search feature, Women in the Spotlight, VIP Woman, and the Member Marketplace.
Andrea Newhouse is the Director of Aquatics Services for Easter Seal in Sacramento. Her company has an outdoor warm water therapy pool that is available for people to use for rehabilitation. The therapy pool is open rain or shine and Andrea encouraged members to come and try it out.
Janice Jordan started her introduction by asking everyone if they felt that they got the most out of their networking efforts. Janice's company, Jordan's Referral Network, teaches individuals to be more effective at networking. Her services explain how to go into an event and come out with 5 valuable contacts instead of just 30 business cards.
Carolyn Curtis is the Executive Director of the Relationship Skill Center. She started her introduction by relaying some startling statistics: 6,000 children are born each year in Sacramento to unwed parents and 21% of area children are being raised by single female parents who are living in poverty. The Center believes that it is imperative to help people have healthy, safe and functional families. They achieve this by teaching parents how to get along. Carolyn said they have great success during the last five years, and have even been invited to speak at the White House.
Colene Sawyer Schlepfer is an established author, and spoke about her newest book, "Fishing By Moonlight. Colene's new book is also featured on the NAPW Author's Page at NAPW.com. She explained that book addresses why people choose one another, how they choose, how relationships work, and how to make them better. Colene, together with her husband, is a couples' therapist.
Terri Brindisi is a professional photographer offering a full range of services. She works a lot with local theaters, doing actor's headshots and dramatic pictures, but also does everything from weddings, to pets, to events, to custom projects and packages.
Rebecca Ward is an interior designer and the owner of Rebecca Ward Design. She does both residential and commercial design, and offers a full range of services from paint color consultation to remodeling entire houses or offices.
Avon Burgess, "Avon" pronounced with a short "A" rather than the long "A" in the cosmetics company, has two jobs. She has been a realtor for 33 years and is currently with Connect Realty. Avon can handle all types of real estate transactions in Placer, El Dorado or Sacramento Counties, from old-style regular purchases to short-sales and foreclosures. Her second job involves sales with a Network Marketing firm handling a line of products connected with the mango. Avon says the products will help you live a better life and have a better quality of life!
Essie Gilchrist is with the S.B.A., Small Business Administration, and will be the Chapter's July speaker. She said the local S.B.A. handles 21 counties from Tracy to the Oregon border. They offer training, loans, disaster assistance, and have an arm dedicated to building small businesses - The Small Business Development Center.
"It is so nice to see so many familiar faces. I have been able to work with many of you in such a variety of ways," said June Azevedo before beginning her introduction. June is in printing and design and her services help improve one's image. In addition, June is now the Sales Manager for a company called Menutek, which does menus. She asked everyone to keep an eye out for shoddy menus when they are out and to give her a call.
Julie AlHuneidi is the owner of A Nu You by Julie and a NuSkin distributor. As such, she targets the causes of aging and can help you look more youthful without surgery or injectibles. Julie is also very excited to be on the board for AirWalk, an event put on by American Lung Association. It will be held on May 14th at Howe Park in Sacramento, and will be fun for the whole family.
Kristin Jordan owns the Serving Our Seniors Directory, which is an online resource guide for senior products, services and education. She also wears another hat as the owner of Kristin N Jordan Bartending Services. Kristin said that if you are planning a party or event with from 20 to 250 or more, it can be a very good idea to have a professional bartender.
Barbara Lawrie, owner of BTL Designs, is a graphic designer who does websites, advertising, promotional products, or whatever you need to get your name out there! She reminded members that back in the old Hollywood days, people had personal publicists, and that is actually what she does now. Barbara also reminded everyone that one of the most important rules about publicity is to make sure that literature is current. She just discovered that her own flyer has old website and email information on it!
Betty Miller of Foothill Securities, is a financial advisor with over 40 years experience. She has been a certified financial planner for over 25 years. She is independent and does a lot with third party asset managers. Betty primarily focuses on investing, securities and planning for retirement.
Sharon Darrow, owner of Travel ID Cards, is a great source for plastic ID cards, with or without photos. She pointed around the room to people wearing their NAPW photo ID cards, as well as others wearing name badges made from their business cards. She reminded everyone that if their company, group, team, etc., needs badges of any kind she can produce them quickly and at very competitive costs. Sharon's company was actually formed around her core products, KidsTravelCards, TeenTravelCards, AdultInfoCards, and PetTravelCards. She shared an anecdote about a recent customer which illustrates her commitment to first class service and maximum flexibility.
Dana Jacques is an OB-GYN physician who is building her practice. She is an independent after working for groups in the past, but realizing she has an awful lot to offer by just being herself and treating her patients the way she feels is right. Dana loves caring for women of all ages, from preteen to post menopausal into the 90s, with all the different stages of life and the challenges that go with each age.
Linda Melody is with Pre-Paid Legal Services. She markets an affordable legal plan to individuals, families and to businesses as an employee benefit. Pre-Paid Legal also has the only identity theft full restoration plan available today.
Syndee Hendricks' company is called Get Consulting, and she has over 30 years experience in managing in 18 states. Two years ago she sold her spa, located in Town & Country Village, and it is still open. In the current economic climate that is an impressive indicator. Syndee focuses primarily on small businesses and individuals, and would love to talk and share information with the women in the group.
Sandy Mosely has about 30 years experience in the medical field, but is currently working as an account executive with Marissa Eldreth on the magazine, City Connect International.
Marissa Eldreth has a business called BizWiz Consulting and Marketing, and now also has a magazine called City Connect International, which just debuted in February. The magazine transformed from its original roots as a Filipino magazine, to one that is geared to all people. Her company also works with non-profits and she invited anyone connected to a non-profit to contact her. Marissa was excited to announce the magazine's first international festival, which will be held May 21st in Roseville. She also announced a new contract for custom furniture from the Filipines, made with the beautiful wood from the islands.
Elvie Van Kempen, of EVK & Company, wears many different hats, most of which are volunteer hats. She opened up a multicultural youth group in 1994 for her own two children, but now helps many kids. She also provides support at the 60's Bash, a Masquerade Ball, a Valentine Ball, a New Year's Eve Dance and many other events.
Kari Hagensmith with The Pajama Executive, teaches and coaches business people to make more money through speaking engagements. She's not talking about compliments, but about cash! Her lessons teach businesses and individuals to make more contacts, newsletter subscribers and profit on the backend. In addition to running her business, Kari has written a book that is perfect for all NAPW members. "The Girlfriend Will" is a funny, specific, down to earth workbook that enables the reader to plan an untraditional will for her closest friend. This lighthearted workbook is designed to make sure all of the unique personal things the reader wouldn't want anyone else to find out about would be handled discreetly.
Christina Carteris is an Assisted Living Administrator with Alameda Elder Communities. At the last chapter meeting she attended she was working at a 50-bed facility, but since January she has been working with a 100-bed facility. She is working behind the scenes to develop policies, procedures, and menus. Alameda Elder has two assisted living facilities, a skilled nursing facility and a rehabilitation agency. They are now developing an additional, fifth, entity which will be a cohousing facility called Elder Village.
Sara Lopez is the owner of SGL Enterprises, which markets products from Amway Global. Sara is passionate about empowering women, and she chose Amway as her vehicle. Amway is supportive of her ideals as it lets women manage all of their other obligations through the ability to do their shopping online, at their convenience. Her online store is a model for all that we use on a daily basis, including exclusive Amway lines, as well as products from hundreds of other stores.
Carol Siegner is a travel agent who specializes in cruises and has been certified by major cruise lines. She plans and books group, individual, and family trips. Carol belongs to some of the national and local travel groups in the area. She is skilled and ready to meet every clients' travel needs.
Our speaker for the month was Lila Devi, owner of Spirit-in-Nature Essences, and a warm and amazing woman. She has proven to be a very successful businesswoman, having built her business into the biggest of its kind in the country. She is now shipping her products all over the world. She combines her business acumen with a quiet manner that makes one feel more serene just being in the room with her. Her presentation was not only very informative, but she started it out by singing to the group! It is easy to see why she has done so well as a teacher and speaker all over the world. An excerpt from her talk can be found on NAPW Sacramento Chapter Facebook page.
The Sacramento Chapter meetings are growing in size and scope each month, and we invite all local members join in April and to bring guests.
For additional information regarding the Sacramento local chapter and/or NAPW please visit http://www.napw.com.
Follow us on Facebook and Twitter.
###