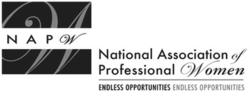 Part of our focus at the April meetings was anticipation for the first NAPW Annual Convention. In May we will be discussing that convention and what the future holds...
Garden City, NY (PRWEB) May 19, 2011
The Sacramento Chapter has two meetings, a lunch and a dinner meeting, each month in order to accommodate the busy schedules of the members. While both meetings have the same agenda and speaker, often several people came both times. Obviously they enjoy the speakers and the atmosphere of the group enough to attend twice! For the sake of simplicity, both meetings have been folded into one in these minutes.
Sharon Darrow, Sacramento Chapter President, opened the meetings by welcoming everyone, then briefly speaking about the NAPW. She spoke about the upcoming convention, which will take place on April 29th in New York City. Sharon also reminded everyone that their introduction is filmed to assist in accurate minutes and, with their permission only, are also posted on the new NAPW Sacramento Chapter Facebook page.
Marissa Eldreth is the CEO of BizWiz Consulting & Marketing Solutions and owner of the new magazine, "City Connect International". The magazine tries to promote the unity of different nationalities and cultures. The magazine's first event will be on June 18th, and everyone is invited to participate. Marissa's company markets multiple products and helps businesses structure their company and market their products. Her latest project is a company from the Philippines that makes custom furniture. In keeping with her non-profit work, she has asked them to contribute a portion of their profits to a group that helps protect the watersheds in the Philippines.
Diana Borroel is a financial adviser with the Principal Financial Group. Financial advisers are prohibited from promoting their businesses through social media, so we are unable to show her in the video presentations. Dianna has 23 years experience in the financial services business, helping people set their goals and reach their dreams. She uses a four-step process: set goals, prioritize goals, implement the plan, and then monitor the plan.
Terry Burke Maxwell now owns a publishing company, after a career in education, publishing and computers. She sells several of her own workbooks, primarily on math and computers, for children and adults. Adults need to be involved in their children's education, and these workbooks are designed to facilitate that. They are also useful for adult education. Terry is now publishing and editing other authors under a new imprint called Earth Patch Press.
Daphne Hewitt, a guest for the first time, is an independent consultant and area manager for Arbonne International, which is a health and wellness company offering natural, botanical based products for the skin, aromatherapy, nutrition, and weight loss.
Carol Siegner, with Ships and Trips Travel, is a travel agent specializing in Europe, especially riverboat cruises. She has been in the business for six years, booking families, corporate, and groups of all kinds.
Sharon Darrow, owner of Travel ID Cards, creates plastic ID cards, with or without photos, for your organization, company, sports team or family group. She says they now also do luggage tags to make your baggage identification and retrieval a snap on your next trip. Their newest items are the "Fun Cards", which are unique creations that make great gifts -- "World's Greatest [Fill-In-The-Blank]" for example, with pictures and personalized text front and back. She then reminded everyone of her core products for travelers, the KidsTravelCard, TeenTravelCard, AdultInfoCard, and PetTravelCard.
Sara Lopezis is the owner of SGL Enterprises. It is her holding company for marketing Amway Global. The Amway business is about providing consumers with the flexibility of online shopping for everything including personal care, home care, health and wellness, and practically anything else. She was very pleased to say that the vitamin and supplement line, Nutrilite, had just celebrated their 75th anniversary and was the very first company to come out with an organic vitamin/mineral supplement. In addition to the exclusive products, there are over 600 online partner affiliates, which enables the consumer to save money. Sara reminded everyone that her business is a great way to develop residual income for the future.
Elizabeth Rosen, a guest attendee, has a business called Pet Your Dog, which offers both services and products for your pets. Her services are designed for those with busy schedules. She is the one to call for dog walking, pet sitting in her home, and training.
Andrea Newhouse is the Director of Aquatic Services at Easter Seals in Sacramento. They have a warm water therapy pool available to anybody with a doctor's prescription. The pool temperature is 92 degrees, and it is open all year round.
Linda Melodyis is with Pre-Paid Legal Services. She said that many people don't think they need an attorney, don't know an attorney, and can't imagine why they would want one. But in this day and age there are many scenarios where having access to one would be helpful, even if just to have one to call and ask questions. Linda brought a brochure with "101 reasons not to be without your life-events legal plan", including things like child support enforcement, advice on a divorce, buying or selling a car or home, and liability questions regarding a business startup. Knowing you can call an expert in your field is a great source of peace of mind!
Alicia O'Hara, attending for her first time as a guest, is a Certified Clinical Hypnotherapist and a Certified Behavioral Therapist. She has been in practice for three years, and describes what she does as "giving people their power back"! She helps people work directly with their subconscious minds to get past the obstacles and blocks that are in their way so they can reach their goals. She also gives people tools to empower themselves, so they can make the changes and improvements that they need. She works out of the Healing Alternative Meditation Center, offering programs, workshops, and individual sessions. Some of the things she helps people with are stress, pain management, age regression therapies, fears and phobias.
Autumn DeCosta is an empowerment coach, which can mean different things to different people. She uses different methods focusing on self-awareness and reconnecting with oneself. One of the programs she offers is called "Imagine a Woman". She and Alicia will be offering a program together on April 23rd at the Healing Alternative Meditation Center, called "The Journey Home", to help women reconnect with themselves and honor the woman within.
June Azevedo, of Azevedo Print & Design, started out with an enthusiastic endorsement of the benefits of hypnotherapy in her life. She says that her job is to make the printed items you work with reflect the beauty of yourself. She is pleased to have done that with several of our members, and is ready to help anyone else that might need assistance.
Susan Harkeis is both a mobile notary and a CPA. She is glad to help anyone with tax questions, tax issues, letters from the IRS that you don't understand and the person who prepared your taxes has skipped town or is no longer in business! Susan invited anyone to contact her if they need help.
Ester Gordillo, attending as a guest, is an international trade consultant at the Center for International Trade Development. She assists both importers and exporters navigate the process, including such things as finding suppliers, finding buyers, dealing with customs, working with customs brokers, and understanding the import/export process. Ester's consulting services at the Center are free, but there are also paid workshops available as well.
The Chapter's April speaker was Elisa Taylor, a Travel Agent specializing in family travel. She truly demonstrated her specialization through her assistant, 5 month old Samuel, who stole everyone's heart! Her company is World Less Traveled, and she provided a wealth of information to help the group enjoy their international travel more, with less stress and problems. Elisa is an avid traveler herself and has a photographic memory, so can really be helpful with explaining what you will see at different destinations. She works personally with all family members, so she can help provide an experience that will have something special for each person in the group. Elisa emphasized the importance of advance knowledge about cruise lines or destinations, since the trip should be custom tailored for one's group.
"Part of our focus at the April meetings was anticipation for the first NAPW Annual Convention. In May we will be discussing that convention and what the future holds," said Chapter President, Sharon Darrow.
For additional information regarding the Sacramento local chapter and/or NAPW, please visit http://www.napw.com.
Follow us on Facebook and Twitter.
# # #