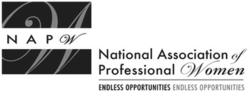 "I joined NAPW because I wanted to join to relate to other women's businesses, camaraderie, meet other professional women, and relate on some of our similar issues."
Garden City, NY (Vocus/PRWEB) February 09, 2011
Chapter President, Angie Norris welcomed everyone and opened the meeting.
National Association of Professional Women's St. Louis Chapter members in attendance included: Angie Norris, Beth Hansen, Aimee Williams, Sarah Unsicker, Tammy St. Clair, Marla Goodwin, Christina Moore, Elizabeth Brewer, Barbara Conrad, and Tisha Mason. Guests of members in attendance included: Alyson Horn and Aretta Hudson.
After attendee introductions were made, chapter objectives were discussed in an open forum format. It was decided that having guest speaker is definitely something we want to include, but we will wait until after we have established our Mission and goals for the chapter.
It was decided that the same venue location, time, and day is best to keep consistent with schedules, ease of remembering and to avoid losing members. In addition to monthly meetings, if a member wanted to volunteer their place of business, the chapter would add additional networking events and/or training sessions at these locations.
The current chapter objectives are to develop the Mission statement, vote on a Board of Directors and, once those two items are completed, add guest speakers and new membership campaigns. Other objectives were discussed and it was decided that the November and December meetings will continue to be an open forum style meeting to further accomplish the goals of the NAPW St. Louis Chapter.
Several members commented on why they feel it is important to develop and grow the NAPW St. Louis Chapter. Their remarks included, "I joined NAPW because I wanted to join to relate to other women's businesses, camaraderie, meet other professional women, and relate on some of our similar issues."
"I wanted to surround myself with women who are educated and have been driven in their lives."
"Let's help each other in our business efforts and continue to make friendships…since St. Louis is a small town, we need to have as many sisters as we can."
Chapter President, Angie Norris offered her web design and creative talent to create a portal for all members to share ideas in a private setting, as well as register for upcoming meetings. All chapter members in attendance were very pleased with the progress of their second meeting and look forward to the November meeting to further their efforts on developing this brand new chapter.
For additional information on the St. Louis Chapter and/or The National Association of Professional Women, please visit the chapter page at http://www.napw.com.
Follow us on Facebook and Twitter
###