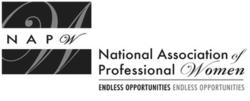 "Go to the web site and check out the organization and the benefit of becoming a member."
Garden City, NY (Vocus/PRWEB) February 09, 2011
The National Association of Professional Women's Westlake Village Chapter had its first meeting at the Hyatt Hotel in Westlake Village in November. There was a small turnout with three members and a few guests, however, based on correspondence, it appears next month's meeting will have a better turnout.
Chapter President Maryam Sharifi, Rejuvenation Connection, introduced herself and spoke of what she envisioned for this chapter. The other members and guests also introduced themselves. After introductions, there was discussion about what the next meeting would entail and the chapter decided to have a guest speaker. Everyone shared their thoughts on whom would speak and on which topics they would like to receive information. In order to give enough support to our members and guests, we decided guest speakers would have 30 minutes for their presentation and the rest of the meeting would be open for questions and discussion.
The chapter later discussed how to connect with other NAPW members in our area and went over the mission statement of the NAPW. Maryam Sharifi encouraged guests to join the NAPW. "Go to the web site and check out the organization and the benefit of becoming a member."
The chapter also considered all reading the same book, 'The Answer' by John Assaraf & Murray Smith.
All members are looking forward to the growth of this chapter.
For additional information about the Westlake Chapter and/or The National Association of Professional Women, please visit http://www.napw.com.
Follow us on Facebook and Twitter
###