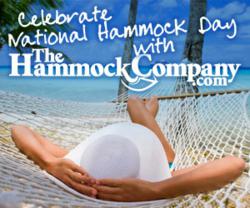 Hammocks are all about indulgence. They're about taking a time-out from the madness of daily life to unwind, and to spoil yourself a little.
Greenville, NC (PRWEB) July 19, 2011
National Hammock Day, the ultimate celebration of taking it easy, is nonetheless coming up fast, arriving Friday, July 22. So are you ready to start relaxing?
HammockCompany.com, an international leader in hammock sales, can help, promises longtime Manager J.R. Pelletier.
That's because at HammockCompany.com, celebrating for National Hammock Day has already begun. Pelletier's relaxation-focused company is offering 15 percent off purchases through Sunday, July 25, so the rest of us can get in on the relaxation party, too.
"How could we NOT be celebrating here?" Pelletier asks. "Hammocks, after all, are who we are!"
Taking advantage of the National Hammock Day discount is nearly as easy as settling into that perfect hammock. HammockCompany.com customers placing an order will use hammock coupon code RELAX15, and 15 percent will automatically be deducted from their purchase price. But they shouldn't wait to take advantage of this, Pelletier cautions: The coupon code will stop working Sunday, July 25, 2011.
"The quality hammock you get, however, will keep on providing relaxation satisfaction for seasons to come!" Pelletier says.
For those unfamiliar with the unique joys of hammocks, a day devoted solely to them might seem like a big indulgence. But that's exactly the point, Pelletier notes.
"Hammocks are all about indulgence," he explains. "They're about taking a time-out from the madness of daily life to unwind, and to spoil yourself a little. And who doesn't deserve a bit of that every now and again?"
Quality hammocks by trendsetting brands such as Hatteras Hammocks, The Original Pawleys Island Rope Hammock and Nags Head Hammocks come in a variety of welcoming styles designed for long-lasting indulgence.
HammockCompany.com carries rope hammocks in traditional cotton, but also offers rope hammocks that go cotton one better, hand-woven from exceptional new-generation synthetics. Soft-spun polyester rope hammocks and DuraCord rope hammocks are not only as comfy as cotton, but are also designed to hold up to intense weather and heavy wear.
Fabric varieties at HammockCompany.com range from stylish, soft, all-weather quilted hammocks to quick-drying poolside hammocks, luxurious pillowtop hammocks and even highly portable, highly durable camping hammocks. Pair a gorgeously curved cypress hammock stand with one of the prettiest of these fabric hammocks, and you've instantly turned an attractive outdoor space into a visually stunning personal relaxation oasis.
"A great hammock is just a great investment," Pelletier says. "That's because no matter what day of the year you get into it, the day then becomes all about YOU."
"National Hammock Day," he adds, "is really National YOU Day, when you get right down to it! Your own day is just going to be that much better because you're in a hammock."
ABOUT HAMMOCKCOMPANY.COM
HammockCompany.com, established in 2002 in Greenville, N.C., is an online specialty retailer focused on hammocks and relaxation-focused outdoor furniture.
Hammock brands include Hatteras Hammocks, The Original Pawleys Island Rope Hammock, Nags Head Hammocks, Hennessy, ENO, Bliss, Tuuci, Algoma and The Captain's Line, HammockCompany.com's own brand.
HammockCompany.com also offers several brands of hammock swings, plus swing and hammock stands and one of the largest varieties of online hammocks, rope furniture and relaxation accessories.
For more information, visit HammockCompany.com, and follow HammockCompany.com on Facebook.
###