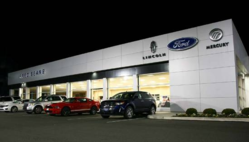 We were averaging about 40 pre-owned sales per month in early 2010 and after implementing the NCMi program; we hit 90 units in July and 100 units in August of that year.
Overland Park, KS (PRWEB) July 05, 2011
According to Gerald Turner, General Manager from the McCafferty Ford and Kia stores in Mechanicsburg, PA, about 18 months ago, the store's used car sales were stagnant and efforts to move up the volume met with little success. Following an NCMi® manager training program in the spring of 2010, a concentrated effort was initiated by McCafferty Ford and other stores in the Fred Beans Automotive Group to boost pre-owned sales.
"Too often we were conservative in our approach to the inventory we maintained," Turner shared. "We started to push the envelope on the types of cars we bought for our locations and told our buyer to acquire 30 to 40 units a month for us. We were averaging about 40 pre-owned sales per month in early 2010 and after implementing the NCMi program; we hit 90 units in July and 100 units in August of that year. So far YTD for 2011 we are averaging over 60 units a month and hit 68 in March. That's a 50% increase over where we were a year ago."
There was a strong emphasis on improving pre-owned vehicles sales performance and profitability. When progress was measured across all stores in April 2011, the group saw some big jumps in their metrics. These results are averages measured from all stores' performance.

Used Vehicle Retail Unit Sales were up 30.4%
Used Vehicle Operating Gross was up 35.4%
Used Vehicle Operating Gross/Retail Unit was up 3.81%
Used Vehicle Controllable Net Profit was up 41.5%
Results varied across the group, but all of the 19 locations and 16 different franchises covering both the Fred Beans and McCafferty brands in Eastern Pennsylvania saw improvement in their numbers.
Chris Gilbert, Group Director of Variable Operations for Fred Beans Automotive Group, indicated that the NCMi training and guidance pushed some stores out of their comfort zones when it came to buying pre-owned inventory. He said, "We saw stores getting more creative on not only the types of inventory they stocked, but on the sources they used to acquire that inventory. With used vehicles in more demand we needed to explore options we didn't consider previously, and that has really helped us boost our pre-owned sales numbers."
Gilbert continued, "One valuable process implemented was the Trade-Walk/Stock-Walk, whereby each dealership general manager conducts a daily vehicle analysis of the inventory with the sales team. This helps identify desirable inventory versus a unit that is better off being wholesaled."
Fred Beans dealerships also implemented a hard turn policy on their inventory based on NCM Associates Benchmarks® that showed the best operators had 70% of their pre-owned inventory in stock for less than 30 days. As the vehicles age they depreciate, so the new Fred Beans policy turned inventory once it reached 60 days in stock, but that didn't always mean wholesale and take the loss. Before the units go to auction, they work to keep the inventory in the family.
Every other Monday the store managers conduct a "Trade Desk" session where stores post their unwanted and aged inventory for sister stores to view and buy. The bidding on those units starts at Manheim Average Money and goes up from there. Each week 50 or 60 units hit the "Trade Desk" and usually 50% of those units are acquired by the participating dealerships. This provides a valuable resource to fill gaps in inventory. Overall, the increased sales and profits from these units benefit the dealer group.
"You can't sell what you don't promote," said General Manager Mark Donahue at Fred Beans Chevrolet in Doylestown. He continued, "One of key components we took from the NCMi® training sessions was the importance of merchandising the inventory. We looked at how they were displayed, reconditioned and detailed; and implemented high level branding on all the GM Certified units. This made customers feel they were getting a great, nearly new vehicle."
Donahue continued, "We also made sure there was gas in each vehicle and that banners were properly displayed. Not only did our pre-owned sales go up, but these and other improvements to our sales process made our store #1 in new Chevrolet passenger car and truck volume in our area."
While each store in the Fred Beans Family of Dealerships had different priorities based on their location and franchises, they all leveraged NCM Associates resources to initiate some out-of-the-box thinking and action plans. Improving profits by 40% or more clearly shows a commitment to process based on sound strategic advice.
About NCM® Associates, Inc.
NCM Associates, Inc. is the originator of the automotive industry 20 Group peer collaboration process and has been providing automotive dealership Benchmarking, Education and Retail Operations Consulting services to the industry since 1947. Located in Overland Park, KS, NCM provides a robust suite of services designed to drive dealership profitability using its proven, operations-focused Benchmark® for Success program with new and pre-owned U.S. automotive dealerships, as well as with dealerships in more than 20 other industries. For more information about NCM Associates, visit http://www.ncm20.com or call 800.756.2620.
###