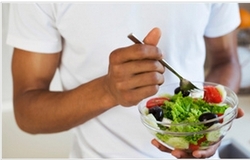 Cleveland, OH (PRWEB) March 23, 2011 -
Cleveland Clinic is observing National Nutrition Month by helping consumers learn and understand more about nutrition therapy as an effective treatment for a variety of illnesses and conditions, including diabetes, hypertension and pancreatic disorders.
"During National Nutrition Month, we want to remind Americans that a colorful plate of fruits and vegetables, combined with lean meats, fish and poultry, and low-fat dairy products serve as the foundation for a healthful eating plan. Optimizing nutrients through healthy eating helps prevent major chronic diseases, such as obesity, heart disease, cancer and diabetes," said Donald Kirby, MD, Director, Center for Human Nutrition, Cleveland Clinic.
Cleveland Clinic wants to ensure that anyone who is looking for more information on nutrition therapy services at its clinic locations or from its Digestive Disease Institute and Center for Nutrition website can easily find the resources that they need to make informed medical decisions.
Cleveland Clinic's nutrition-related clinical treatment services help patients manage and prevent various health conditions. For more than three decades, the Digestive Disease Institute Center for Human Nutrition has provided care to adult and pediatric patients with nutritional disorders. Specialized teams focus on nutrition therapy, intestinal rehabilitation and transplant nutrition and nutritional support. Cleveland Clinic's staff of registered dieticians and dietetic technicians work with patients to ensure optimal nutrition as patients cope with diseases and conditions, including kidney disease, digestive disorders, high cholesterol and more. Patients can access Cleveland Clinic's online nutritional tools and guides including BMI calculators, PDF reports such as 'Weight Loss Options,' 'How to Lower Your Cholesterol,' 'Low Fat Ideas for Kids' and more. The center offers nutrition education resources from the American Dietetic Association, The U.S. Food and Drug Administration, The American Heart Association and others to support individuals as they make healthy nutritional choices at every life stage.
Cleveland Clinic Digestive Disease Institute (DDI) optimizes the patient experience by uniting specialists within one unique, fully integrated model of care. DDI was the first institute to offer this integrated care approach that offers patients the most advanced and proven medical and surgical treatments primarily focused on the gastrointestinal tract. Cleveland Clinic has been ranked #2 in the nation in gastroenterology by U.S.News & World Report's "Best Hospitals" survey since 2003.
Cleveland Clinic Digestive Disease Institute specializes in:

Colorectal surgery
Gastroenterology and hepatology
General surgery (including hepato-pancreato-biliary and transplant surgery)
Human nutrition
Patients can request an appointment online with Cleveland Clinic's Digestive Disease Institute and the Center for Human Nutrition by visiting clevelandclinic.org/nutrition.
About Cleveland Clinic
Cleveland Clinic, located in Cleveland, Ohio, is a not-for-profit multispecialty academic medical center that integrates clinical and hospital care with research and education. Cleveland Clinic was founded in 1921 by four renowned physicians with a vision of providing outstanding patient care based upon the principles of cooperation, compassion and innovation. U.S. News & World Report consistently names Cleveland Clinic as one of the nation's best hospitals in its annual "America's Best Hospitals" survey. About 2,000 full-time salaried physicians and researchers and 7,600 nurses at Cleveland Clinic represent more than 100 medical specialties and subspecialties. In addition to its main campus, Cleveland Clinic operates nine regional hospitals in Northeast Ohio, Cleveland Clinic Florida, the Lou Ruvo Center for Brain Health in Las Vegas and Cleveland Clinic Canada. In 2008, there were more than 4.2 million visits throughout the Cleveland Clinic health system and 165,000 hospital admissions. Patients came for treatment from every state and from more than 80 countries. Visit Cleveland Clinic at clevelandclinic.org.
The information contained in this communication was developed by Cleveland Clinic's Marketing Department.
For more information on Cleveland Clinic's Digestive Disease Institute and the Center for Human Nutrition, please contact:
Media Contact
Dan Doron
Communications and Public Affairs Manager
216.312.0428
dorond(at)ccf(dot)org
###