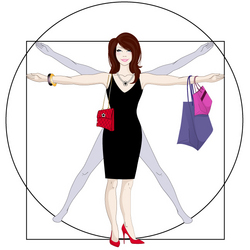 "Some stars are trying so hard to be trendy...that their style choices backfire and leave you wondering... 'What the heck was she thinking?'"
Beverly Hills, CA (PRWEB) February 28, 2011
Hailee Steinfeld's gorgeous gown, Scarlett Johansson's lace extravaganza, and Kate Blanchett's easter egg dress were among the highs and lows of this year's Oscar fashions found on the red carpet Sunday night by international fashion stylists and identical twin sisters Ruth and Sara Levy.
"With unlimited access to the world's most beautiful clothing and jewelry literally thrown at these stars - not to mention armies of fashion stylists and designers at their beck and call, everyone should shine on the red carpet," declared Ruth Levy, a European fashion designer who spent ten years creating The Fashion Code, a timeless concept for dressing beautifully, with her identical twin sister Sara.
"However, some of these stars are trying so hard to be trendy and different that their style choices backfire and leave you wondering... 'What the heck was she thinking?'" said Sara.
The twin stylists have appeared on TV's "Rachael Ray" show, and NBC's "Cracking The Fashion Code". They provide fashion styling and consulting for a wide variety of clients in the U.S. and Europe. According to the Twins, here is the best and the worst of the red carpet...
"Cate Blanchett didn't arrive in an egg like Lady Gaga at The Grammy's, but her gown sure made us think she did - as she looked looked like a freshy decorated easter egg. Not sure what she was going for her but it looked like Jane Jetson meets The Sound of Music", quipped Sara.
"Mila Kunis's gown was two-thirds nightgown and one-third toga. It was too deeply cut... if she had more real estate on top she would have been in real danger of a wardrobe malfunction", notes Ruth.
"Hailee Steinfeld wins the Jr. Achievement Award of fashion with her beautiful gown. She was one of the best dressed there - pretty amazing when a 14 year old has more fashion sense than much of the 30 plus crowd. It was absolutely age appropriate - right down to the length of her skirt - which, ahem, can't be said of all starlets who walk the red carpet."
One of the Twins' fashion mantras is that extra fabric equals extra girth and here is a perfect example with Marissa Tomei:. "All that extra pleated taffeta overwhelmed her beautiful figure", notes Ruth.  She would have looked sleek and stylish if she lost that huge tulle apendage at the bottom of her gown."
"Beware of trends is another one of the Fashion Code's popular mantras. Florence Welsh seemed to be trying to cram in as many trends as possible with a gown full of lace, ruffles and bows. This Victorian dress gone awry would have made Holly Hobby green with envy."
"Scarlett Johansson was in, well...scarlet. The combination of wearing this unfortunate color, being wrapped in a lace sausage casing, and the 'morning after' hairdo all added up to a huge style strikeout at this year's fashion all-star game."
"For Helena Bonham Carter we were just relieved that her days of wearing two different colored shoes on the Red Carpet are over. The Adams family goth vibe did nothing for her natural beauty, but like she says - she's about film not fashion."
"Wish we could have said Melissa Leo from The Fighter was a fashion knockout, but fuhgeddaboutit. Unfortunately, this tablecloth inspired number threw her through the fashion ropes. Too bad... she coulda been a contender."
"Sandra Bullock was one of our favorites tonight. She reminds us that classy and elegant are never out of style. However, we are still baffled by the lack of bling. Where are the beautiful baubles at all the Red Carpet Events? This dress is screaming for a little love from Tiffany's, but it seems that there is still an unofficial ban statement necklaces. Please let it be over soon so they can add the glitz back to the glamour at the awards shows."
"A special nod also goes to Jennifer Hudson. This frock star looked haute and hot with her amazing new bod. Although her dress was remarkably similar to Sandra Bullock's (and Anne Hathaway's) - right down to the missing bling, we still give her snaps for her style. The excess boobage was a bit much, but if looks could kill she could be Lindsey Lohan's new prison mate", declare the Twins.
For photos click here.
The Twins are known for their groundbreaking work empowering women with the secret to finding their most flattering clothing - regardless of their size, shape or weight. They have a popular fashion blog, known for its amazing before and after photos. Sara and Ruth's fashion formula, which has been touted as "the best kept secret in fashion", is based on a timeless formula for beauty and is available to individuals on their website.
###