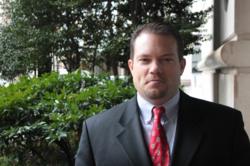 "Determining your firm's position with the Oxley Readiness Assessment prior to making the leap is smart business," says Jennifer Schaus, GSA schedule expert.
Washington, DC (PRWEB) September 06, 2011
Is your company ready for federal contracting? Many small businesses have excellent, proven products and services that would be attractive buys for the federal government, but they don't know how to make an entry into the $3.9 trillion federal contracting marketplace. Others are scared off by Congressional budget battles and expected cuts in agency spending.
Oxley Consulting, headed by Elvis Oxley specializes in federal government marketing strategies and they are helping to break down the entry barriers to federal contracting for emerging-growth companies outside the Beltway.
Oxley is offering a Readiness Assessment for emerging growth businesses to help them decide whether they are ready to take the next step from commercial success into successful government contracting.
"Selling to the federal government can be a long and arduous process. Determining your firm's position with the Oxley Readiness Assessment prior to making the leap is smart business," says Jennifer Schaus, principal at Jennifer Schaus & Associates, a GSA schedule expert.
Seven Points to Assess Your Readiness for Government Contracting:
1. Is your business operationally sound? This means looking at annual revenues and profit margins. Usually, when a company reaches $2M in annual revenues, it is ready to consider entering the federal contracting marketplace.
2. Has your business been operating for three or more years? The General Services Administration (GSA) tends to prefer that a company have at least a three-year track record.
3. Is your product or service patented or protected in any way? If so, contracting officers can't order your unique product from any other source and will consider non-competed contracts. On the other side of the coin, if the product is so unique, getting an NSN (National Stock Number) can be an obscure, difficult task for long-term sales.
4. Is your company capitalized well enough to allocate the necessary resources to be successful converting to government-approved accounting systems, hiring an experienced consultant and staffing business development visits with a new set of federal prospects?
5. Are your ownership and management aligned around the goal to earn government contracts? Government contracting takes time, focus and tenacity. Your team needs to treat it as a very strategic venture.
6.Is your majority owner a minority, woman, veteran, Alaskan native or Native American? If so, there are set-aside contracts for each of these categories.
7. Is your company in early stage development, emerging growth or a mature sales stage? Your company has succeeded in the private sector and now you are ready to investigate new markets. Chances are that the government buys what you sell and they may prefer to buy it from you if you can sell it at a better price, be more efficient then their current supplier or offer something completely unique.
About Oxley Consulting
Oxley Consulting provides proven government marketing strategies, political intelligence and funding sources for companies who are ready to enter the federal marketplace. Founder and President Elvis Oxley has successfully connected small businesses from Ohio, Connecticut, North Carolina, South Carolina, Florida, Arizona and Virginia into the $3.9T worth of the annual federal spending.
For the past 14 years, he has worked in government affairs, directing marketing communications strategies for a variety of large multi-national firms, enterprise businesses and non-governmental organizations. Also, Oxley is an active member of the U.S. Chamber of Commerce Small Business Council. He founded Oxley Consulting in 2006.
If you have questions about the readiness assessment or the government's need for your particular product, call Oxley Consulting at 202-266-0435 or visit http://www.governmentcontracting.net.
###