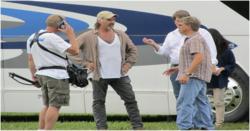 I am happy with the final deal, it was a fair one for all parties
Las Vegas, NV (PRWEB) July 18, 2011
RDP Hospitality Group (RDP) announced today that the Company has finalized two separate agreements with PBS Holdings, Inc. (PBHG) based in Dallas, Texas.
The agreements made way for PBS Holdings, Inc. to acquire equity into RDP Hospitality Group's wholly owned subsidiary in Global Maximus Productions, LLC (GMP) as part one of the two way deal.
PBS Holdings, Inc. also acquired an equity share of the new RDP developed Real Estate TV Interactive Network (RETVi). RETVI will provide national listings of real estate through a new platform available to guests staying at select properties providing the new Rev-Pak bundled services. RDP primarily focuses on the creation of customized content and media for reward, retail commercial, hospitality free-to-guests and pay-per-use in-room interactive systems.
RDP had been evaluating potential partners to help facilitate new GMP contracts through a working partnership for the life of the contracts. GMP is contracted to support a soon to be released revenue generation program "Rev-Pak" which is to be distributed by keynote content distributors in a rev-share arrangements with the participating hotels. The program is expected to generate record new incomes through the revenue enhancement program for hoteliers.
Rev-Pak will be the first program of its kind contributing thousands per year to client property incomes where the majority of the revenue stems from many forms of diverse earnings beyond the in-room or business center systems.
GMP has been a beneficiary of building a strong programming base whereas GMP, a privately held corporation is anticipated to reach billions in annual revenues as a result of new long-term contract acquisitions.
The agreement goes beyond the PBS Holdings potential new lucrative stake in GMP and RETVi respectively, the role of PBS Holdings Inc. through its subsidiaries is to provide contracted production and 3-D services to the events and shows being produced by GMP and RETVi.
The production partnership will also provide video services to the RDP highly regarded music label Global Maximus Records (GMR). The partnership has already begun working on the cooperatives first major music video project for Country Music Artists, 'BadHorse' a GMR signee.
"I am happy with the final deal and in the end it was a fair one for all parties involved, our market superior content delivery capabilities, contract power and revenues tied to their history and expertise in production made for a common sense deal for everyone". States, Randall James, Chairman-CEO of RDP Hospitality Group
"The bottom line is, we are overwhelmed with new business opportunities and RDP needed the infrastructure and bandwidth found in PBS Holdings and StarFest Direst to be more ready to the marketplace and we are ready to roll out new initiatives quicker and at a very high quality of production as a result of the agreements." as Will Beatty, COO of RDP Hospitality Group concludes.
GMP is also producing the new Maximus Overdrive "Live" music show, which is set to host major A-List entertainers in Pay-Per-View and co-produced by Starfest Direct, a PBS Holdings, Inc. subsidiary. These events will be available in all forms of media attachments whether on-line, television or exclusive pay-per-use and mobiletv platforms.
GMP will begin production on approximately 27 shows for the Real Estate TV Interactive Network and other various content programs, and in the works are a major network television show and several big screen projects all in the pre-production stages as well.
The final agreement reached with PBS Holdings, Inc. will provide facilities and expertise as a catalyst to reaching critical mass objectives and a long-term platform for GMP to produced its diverse programming. GMP and PBS Holdings have agreed to provide use of each other's facilities in the cooperative productions each is involved in.
"This is a game changing event for PBS Holding, Inc. As a content developer and provider we are benefiting from an impressive distribution system and delivery platform that RDP Hospitality has developed along with its partners. The impressive amount of production will keep our studios busy with content development. PBS Holdings, with these new GMP contracts and shared ownership, along with our Starfest Direct Technology, we are poised to create a great revenue generating machine and enhancement to our shareholders value." Stated Edward Vakser Chairman, PBS Holding Inc. (PBHG)
As to: PBS Holding Inc. is a Publicly Trading Company trading on OTC Markets under the symbol PBHG. The company is focused on growth by mergers and acquisitions of technology, media, multimedia, television, Film productions and content development. As a wholly own subsidiary, Starfest Direct Inc is utilized for its high end Direct Sales Technology Enterprise System. Starfest Direct is a virtual product and services catalog system designed to facilitate sales, membership accounting and maintenance http://www.starfestdirect.com
As to: RDP Hospitality Group is a high end consultant firm specializing in hospitality, entertainment creation and managements of programming designed to impact hoteliers bottom line profits. GMP, GMR, Executive Preview (Career Building Platform) Maximus Overdrive "Live" Pay-Per-Views using new state of the art world class unmatched technologies for the deliveries of the various forms of media. http://www.MusicatGMR.com
###