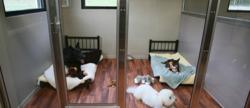 "I'm proud to bring my four decades of experience and my training philosophy of control through kindness to this one-of-a-kind facility," says founder Shelly Leibowitz
Millstone Township, NJ (PRWEB) November 28, 2011
The Green Leaf Pet Resort & Hotel, a luxurious 56-acre dog resort and hotel, has opened its doors in Millstone Township, New Jersey, providing the very best in boarding, day care, grooming, exercise and specialized training in a secure and beautiful setting.
Co-founded by expert behaviorist and trainer Shelly Leibowitz of Shelly's School for Dogs, and nestled alongside a picturesque lake and blueberry farm, The Green Leaf Pet Resort & Hotel offers the highest-quality hands-on personalized services in an elegant state-of-the-art environment that dogs and their care-givers will enjoy like no other.
"I'm proud to bring my four decades of experience and my training philosophy of control through kindness to this one-of-a-kind facility," says founder Shelly Leibowitz. "I'm looking forward to being able to work with more dogs and their caregivers here--affording them not just a fabulous resort and hotel destination, but a spectacular level of quality day care, grooming, obedience training, assisting with behavioral issues, preparing for the world of competitions, and training dogs to work a multitude of tasks with law enforcement agencies and more."
Pets and their human companions will revel in the amenities available at this serene and luxurious facility. The Green Leaf boasts 7,000 square feet of private suites with accommodations both stimulating and restful for daily or long-term boarding.
Dogs will have access to a 4,500-square-foot play arena with stress-free flooring and a 1,500-square-foot grooming room and spa. Additionally, there is a 500-square-foot puppy socialization suite, and a 3,000-square-foot indoor aquatic center for exercise, recreation, relaxation and play is currently under construction. All facilities are under the individual direction of highly experienced trainers and groomers whose love of dogs equals that of their own companions.
The Green Leaf Pet Resort & Hotel provides the highest quality and most technically advanced physical conditioning, recreation and exercise programs available. Additional features include a state-of-the-art antimicrobial cleaning and hospital-grade air filtration system throughout this green and energy-efficient facility that ensures a germ-free environment for all pets.
Also available are pet pickup and delivery, hypoallergenic baths, massage, luxury pet-i-cures, an on-site kitchen with pet dietitians to ensure proper daily nutrition, and everything a dog needs to ensure that it is healthy, happy and enriched when it is away from its owner. Every nuance of comfort and health for dogs has been integrated into creating their ultimate resort experience, and there's simply nothing like the personalized attention and range of services offered by the caring staff at The Green Leaf Pet Resort & Hotel.
For more information, visit http://www.greenleafpetresort.com and follow us on Facebook at facebook.com/GreenLeafPetResort.
About The Green Leaf Pet Resort & Hotel
Acclaimed for training by control through kindness, The Green Leaf Pet Resort & Hotel is your dog's ultimate vacation destination daily and long-term, providing customized personalized care, exercise, training, grooming, fun, health and wellness in a serene, secure and luxurious natural setting. Follow The Green Leaf Pet Resort & Hotel on Facebook at facebook.com/GreenLeafPetResort.
###