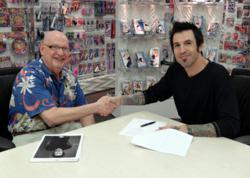 Extending my personal brand into a line of sex toys is something I've always wanted to do. It fits with everything I've done as a public figure and I'm honored to team up with California Exotic Novelties to make it happen.
--Phil Varone
Chino, CA (PRWEB) October 05, 2011
California Exotic Novelties, a major, global manufacturer of adult novelties, partners with legendary former Skid Row and Saigon Kick drummer, Phil Varone. A line of sex toys, including a realistic toy molded from Varone's manhood, is being produced for release in early 2012.
"This is the first time a novelty manufacturer has molded a mainstream rock star or produced a sex toy line bearing a rock star's image. We're proud to add this to our long list of 'firsts' for California Exotic Novelties, and we're thrilled to team up with Phil," says Susan Colvin, President and CEO of California Exotic Novelties.
Phil Varone is an accomplished drummer, best known for his work with the bands Skid Row, Saigon Kick, and Vince Neil. In recent years Varone garnered worldwide attention on VH1's hit show Sex Rehab with Dr. Drew and Strange Sex on the Discovery Channel.
Known for his voracious sexual appetite and for sleeping with thousands of women, Varone recently released Phil Varone's Secret Stash, a celebrity sex tape that chronicles many of the rocker's sexual escapades.
"I've always been open to all types of sexual experiences," says Varone. "Extending my personal brand into a line of sex toys is something I've always wanted to do. It fits with everything I've done as a public figure and I'm honored to team up with California Exotic Novelties to make it happen. The company's stellar reputation, along with Ms. Colvin's commitment to excellence, makes this a dream-come-true."
Varone recently bared it all as the centerfold for Playgirl Magazine. He is also the host and producer of the Sex Stand Up Rock N Roll Show which tours the United States. Varone was also a featured celebrity on Celebrity Ghost Stories and he has been on numerous talk shows including The Oprah Winfrey Show, The Tyra Banks Show and The Today Show. He also developed a following with his acclaimed, feature-length, documentary, Waking Up Dead, released in 2007, which chronicled his life as a touring drummer during the Skid Row and Saigon Kick years.
Al Bloom, Director of Marketing for California Exotic Novelties, says teasingly, "In addition to being a rock and roll god with a ton of great-looking tattoos, Phil also has something unique about his manhood that has never been replicated into a novelty. I can't reveal too much before the product hits the market, though. You'll have to check back with us when the line is unveiled!"
The new line of toys inspired by rock star Phil Varone will be released by California Exotic Novelties in early 2012.
About California Exotic Novelties
California Exotic Novelties is the nation's leading manufacturer of adult toys and novelties. Since 1994, the company has been at the forefront of research and development of products to enhance the sexual experiences of women, men and couples. From its 200,000 square foot operations center in Chino, California, CalExotics maintains a network of manufacturing and distribution facilities worldwide. Its products are available online and from retailers throughout the world.
Merchandise Contact
Al Bloom
Director of Marketing
California Exotic Novelties, LLC
Phone: (909) 465-4946
Email: al(at)calexotics(dot)com
Press Contact
Desiree Duffie
Director of Public Relations
California Exotic Novelties, LLC
Phone: (909) 465-4956
Email: Desiree(at)CalExotics(dot)com
###