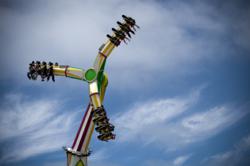 It's a great way to be an active participant in the Fair and give some exposure to developing artists and designers,"
La Jolla, CA (PRWEB) June 02, 2011
UC San Diego Extension has donated free art classes, photography classes, or graphic design classes as a prize to the contest exhibits at the San Diego County Fair for more than a decade to show their support of both the Fair and the local arts and design community. "It's a great way to be an active participant in the Fair and give some exposure to developing artists and designers," notes Annika Nelson, local artist and program representative for the UC San Diego Extension Art and Photography programs.
To pick winners from among the more than 1,400 images in 33 categories, Georgia Ratcliffe, and her assistant Ron Ham, pulled together seasoned teachers, photography professionals and advanced practitioners to judge these images. UC San Diego Extension Digital Arts instructors Carolyn O'Barr and Aaron Serafino were part of the preliminary and final judging for the competition for the photography and digital art exhibit, along with photography instructor Eddie Garcia III, one of the judges in the final round of the Fine Art Photography category.
Carolyn O'Barr and Aaron Serafino teach a wide variety of digital design classes including multiple levels of Adobe Illustrator, InDesign and Photoshop. Both are highly praised for their expertise and quality as instructors and professionals within the industry.
Eddie Garcia III teaches photography classes including "Introduction to Black and White Photography" and "Capturing Time: Beyond the Basic Exposure." He is known in the local community as a highly skilled and innovative commercial photographer.
Check the San Diego County Fair's website for further details about next year's competition that includes Photography, Photojournalism and Digital Arts. The Photography exhibit will be open to the public throughout the duration of the San Diego County Fair June 10-July 4, 2011.
For more information about UC San Diego Extension courses, visit extension.ucsd.edu. Graphic design classes and photography classes are now open for enrollment, and the Summer quarter begins July 5.
UC San Diego Extension is a division of the university's Extended Studies & Public Programs, offering 100+ professional and specialized certificate programs in a variety of disciplines. Nearly 50,000 adult learners attend classes each year at its facilities on the UCSD La Jolla campus, the University City Center, and the Mission Valley Center.
# # #