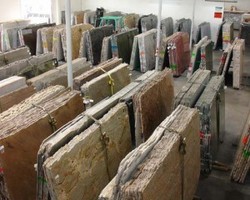 The latest trends are exotic granite and white marble from Carrera, Italy.
Hayward, CA (PRWEB) February 14, 2011
Exotic granites are in!
Times are changing.
Homeowners are now tired of the typical looking granite, they want something different and unique.
Natural stone with the properties of granite but the looks of marble.
Designers also are constantly looking for new exciting colors and some of the new stones available in market today sure help make a statement in any project.
Pietra Fina's team travels to several countries to hand select the hardest to find products; works of art from quarries all over the world.
Colors and patterns that would make any remodel or new contruction really exciting.
Beautiful natural stone where to look for something new every day!
Better technology and new quarrying techniques now allow to unearth more exotic natural stone.
Pietra Fina, Inc. keeps their whole granite current daily updated online inventory in their website:
http://www.pietrafina.com
White marble from Carrara, Italy.
This white marble is quarried in the alps above the cities of Massa & Carrara.
The Romans started quarrying here 3000 years ago and Michelangelo here got blocks of white marble for his famous works of art.
Quoted from Michelangelo: "The unfinished; ideas fighting the raw material to come to life"
Immortal beauty that works with every design and in every project.
These types of marble work in harmony both in contemporay and traditional design.
This stone has many beautiful variations; from the white and grey White Carrera to the whiter and harder to find Calacatta Oro (Calcutta Gold), Statuario (Statuary) and many more.
250 quarries for thousands of projects around the world, residential or commercial.
Pietra Fina, Inc. keeps their whole marble current daily updated online inventory in their website:
http://www.pietrafina.com
From the official website Home page:
Welcome to Pietra Fina, Inc.
Pietra Fina, Inc. is an importer of natural stone such as exotic granite, marble, limestone, travertine, onyx, slate, soapstone and quartzite slabs. They also carry tiles, mosaics, borders, and blocks. Their stone collection consists of over 300 variations of natural stone. By travelling all over the world to hand select their products they can provide their customers with the finest material available.
They have in stock the largest selection of natural stone slabs in the San Francisco Bay Area. They are located in Hayward, California and they serve the entire Bay Area: San Francisco, Peninsula, East Bay, South Bay and North Bay. They also ship to Hawaii and other areas in the United States.
Their objective is to ensure their customers have the best selection of natural stones and to create a pleasant environment to make the selection process an enjoyable experience.
They specialize in exotic and hard to find Granite such as Madre Perla, White Princess, Juparana Creme Bordeaux, Costa Esmeralda, White & Gold, Labradorite Lemurian, Blue Louise, Azul Imperial, Golden Eclipse, Typhoon Bordeaux, Golden Beach and many more. These beautiful natural stones have the physical characteristics of granite but resemble the look of Marble.
The latest trend in Marble is White Marble from Carrara, Italy. This region is in Tuscany, Italy. Here the Romans started quarrying this beautiful marble 2500 years ago and Michelangelo got his blocks for "The David", "Bacco", "Vittoria", and "Pieta''" to name a few.
###