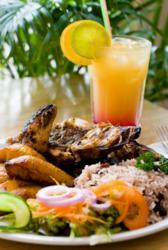 Food and taste of the Caribbean in the heart of Bristol!
(PRWEB UK) 18 October 2011
Caribbean Flavoured Christmas
Christmas in the midst of the cold British winter feels a world apart from celebrating on mellow, sun-soaked shores. In the West Indies, Christmas is a time to relax, let go and celebrate amongst the warmth, laughter and togetherness of family, friends and loved ones. Experience this Caribbean spirit with all its vibrant, joyous festivities without the hassle of a long haul flight.
Relax and enjoy the music, delicious Caribbean food and all the trimmings and create a truly authentic Christmas celebration. Plantation's Rum Bar has a 3am license serving unique cocktails, flavoured rums, traditional spiced sorrel and familiar favourites flowing freely.
If December is already busy, that's no problem. The Caribbean Christmas vibe lives long into the New Year.
Book your Christmas party at Plantation
from 1st - 23rd December and 27th - 30th December
Beverley Forbes, host of ITV's 'A Recipe for Christmas' and a professional team of chefs will work their culinary magic in the kitchen, cooking up a sumptuous, authentic Caribbean feast.
See our Christmas Menu
It's no secret that music and dancing is at the heart of Caribbean culture… so there is always live music every day in December, playing a varied selection of uplifting reggae, gospel, Latin American, funk and sweet soca rhythms. Already booked are Ilu Axe', a passionate samba reggae band, 'Pansonic', an authentic steel pan band and 'Jammazz', a band at the cutting edge of funk and jazz, to name but a few. Once you've finished being entertained, then get your flex on for some limbo pole antics late into the night. Last years' guests fell about in hysterics as they playfully competed with their friends!
Check out 'whats on'
As established party planners, Plantation can take the stress out of your Christmas. With 8 years experience in events and catering Caribbean style, Plantation has even thrown a bash for the Jamaican High Commissioner. Plantation can take care of your celebrations however big or small your party.
So shut out the cold and be transported to the tropical, sun-kissed islands where friends and family can taste the full-flavour of a Caribbean Christmas.
###