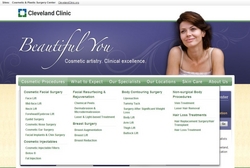 Cleveland, OH (PRWEB) January 25, 2011
Cleveland Clinic announces its new Cosmetic & Plastic Surgery Center that offers patients the benefit of board-certified and highly trained specialists who perform facial cosmetic, breast and body contouring procedures in a multidisciplinary setting that helps ensure the highest level of care and the best results. Cleveland Clinic's cosmetic and plastic surgery specialists are pioneers in their field and are experts at minimally invasive plastic and cosmetic surgery procedures. Through Cleveland Clinic's multidisciplinary approach to cosmetic and plastic surgery procedures patients can benefit from a restoration of their youthful appearance and an enhanced sense of well-being.
Cleveland Clinic offers a full range of cosmetic and plastic surgery procedures; including cosmetic facial surgery (face lifts, neck lifts, eyelid surgery and ear, nose, chin and eyebrow facial procedures); cosmetic injectables (fillers, Botox, fat injections); facial resurfacing and rejuvenation (chemical peels, dermabrasion and microdermabrasion, laser and light-based treatments); breast surgery (breast reduction, breast augmentation, breast lift) and a variety of body contouring surgery procedures, non-surgical body procedures and hair loss treatments. Men and women who are interested in receiving cosmetic and plastic surgery consultations and treatment can access multiple Cleveland Clinic Cosmetic & Plastic Surgery Center locations in Northeast Ohio. Cleveland Clinic also provides patients with an informative section of its Cosmetic & Plastic Surgery Center website that offers before and after photos and details on what to expect before, during and after cosmetic procedures.
James E. Zins, MD, Chairman of the Department of Plastic and Reconstructive Surgery at Cleveland Clinic, provides an overview of the procedures and the high level of expertise offered at Cleveland Clinic's Cosmetic & Plastic Surgery Center: "Our new cosmetic and plastic surgery center brings together physicians and surgeons from all areas of cosmetic surgery. Whether you are interested in cosmetic surgery of the face, abdomen, or breasts or considering Botox (R) or fillers to improve your skin's appearance, we can offer expertise of highly trained physicians with specialty interests in these areas. Collaboration between doctors who come from different disciplines brings you the the best possible patient care and outcome. We believe that this novel approach represents the future of cosmetic surgery," Dr. Zins said.
Prospective patients can receive more information by visiting clevelandclinic.org/RenewU, by calling the consultation request phone number 216.444.4004, or by submitting a request via Cleveland Clinic's online consultation request form, or by signing up for the Cosmetic & Plastic Surgery Center newsletter.
About Cleveland Clinic
Cleveland Clinic, located in Cleveland, Ohio, is a not-for-profit multispecialty academic medical center that integrates clinical and hospital care with research and education. Cleveland Clinic was founded in 1921 by four renowned physicians with a vision of providing outstanding patient care based upon the principles of cooperation, compassion and innovation. U.S. News & World Report consistently names Cleveland Clinic as one of the nation's best hospitals in its annual "America's Best Hospitals" survey. About 2,000 full-time salaried physicians and researchers and 7,600 nurses at Cleveland Clinic represent more than 100 medical specialties and subspecialties. In addition to its main campus, Cleveland Clinic operates nine regional hospitals in Northeast Ohio, Cleveland Clinic Florida, the Lou Ruvo Center for Brain Health in Las Vegas and Cleveland Clinic Canada. In 2008, there were more than 4.2 million visits throughout the Cleveland Clinic health system and 165,000 hospital admissions. Patients came for treatment from every state and from more than 80 countries. Visit Cleveland Clinic at clevelandclinic.org.
The information contained in this communication was developed by Cleveland Clinic's Marketing Department.
For more information on Cleveland Clinic's Cosmetic & Plastic Surgery Center, please contact:
Halle Bishop
Senior Associate, Corporate Communications
216.445.8592
bishoph(at)ccf(dot)org
# # #