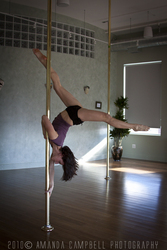 "It is our desire for each student with whom we work to attain a greater sense of freedom in physical expression, to literally soar and dance in ways that he or she could only dream."
Denver, CO (PRWEB) February 8, 2011
TranZenDance Studio has relocated to The Bolt Factory, a newly renovated multi-unit complex with history going back the early 1900's. The contemporary space has become home to numerous varied businesses that share a common thread of an artistic vision unique to Denver, including several photographers, painters, and galleries that participate in Denver's Santa Fe Art Walk. This public open house showcases the best of the Denver art scene each year, occurring on the first Friday of each month.
"I could not be happier with our new home. We are now surrounded by a community of creative minded intellectuals and businesses that mirror our philosophy regarding the many forms of artistic expression. Our form of dance (pole) and approach to teaching have been well received and supported since we have arrived," states Director and Teacher, Dr. Lori A. Huett. "Our studio and program are oriented towards holistic health: spirit, body, and mind…in that order," shares Huett.
The ambience of the studio's new location matches the open and uplifting philosophy of Dr. Huett. TranZenDance Studio now has nearly 2,000 square feet of dance floor space, six poles, towering windows with mountain views, and plenty of wall space on which to display and promote local artists' work.
"Associative learning usually occurs unconsciously," Huett continues. "For this reason alone, I believe being part of such a forward thinking community will give us the chance to collaborate with other creative individuals, resulting in new opportunities to showcase and teach this beautiful form of dance to new audiences." She is hopeful that such collaboration will lead to more modern (and accurate) portrayal of this relatively new form of dance in areas such as film, painting, and photography.
As a fitness workout, pole dancing has been around for over a decade. Despite this, pole dancing's closest albeit misguided association is to the "strip club" scene. To this, Huett responds, "Ironically the form of dance thought to be the most exploitative to women has been the most unifying and healing form of movement. I believe many women (and men) at our studio share this sentiment." Huett elaborates, "As we become physically stronger and more in-touch with our bodies, changes also occur within. We develop a stronger sense of self, and everything from our burgeoning style with the dance to our body language and confidence in everyday tasks change for the better." Along the lines of "Zen," to which the studio name alludes, "We learn to balance when we are 'off-center,' 'follow the body's momentum when it is taking us elsewhere,' and 'find congruence between that which we are feeling and willing to express, using movement as the channel," states Huett.
The TranZenDance staff's approach to teaching pole dancing is unique in that each instructor has formal training in dance, while also possessing advanced degrees and training in counseling. Although the benefits may be therapeutic, Huett and her staff do not purport to be offering therapy. "Rather, we strive to provide the highest quality dance instruction, based on proper alignment, biomechanics, and the principles of movement known to all dance forms," states Program Director, Michelle Remy. Individuals, often with little or no previous dance experience, acquire skills to dance freely and fully, while realizing their own styles within pole dancing. "I grew up in a 'non-dancing' family," shares one student. "I pushed myself to study Bollywood for 1.5 years and grew comfortable with choreography. However, the idea of dancing without steps was intimidating. This was one of the goals I had for myself when I came to TranZenDance," states, Dina, who began pole dancing at the studio two months ago.
"If the outcomes our students describe are "therapeutic," than even better," states Huett. "Any activity that allows us a glimpse of what is possible has great 'therapeutic' potential," continues Huett. On a final note, the staff at TranZenDance agrees, "It is our desire for each student with whom we work to attain a greater sense of freedom in physical expression, to literally soar and dance in ways that he or she could only dream. Movement is the basis of life, and to affect and transform movement is to grow and expand in new ways: neurobiologically, psychologically, emotionally, socially, and spiritually."
About Dr. Lori A. Huett and TranZenDance Studio:
Director and Lead Instructor at TranZenDance Studio in Denver, Colorado, Dr. Lori A. Huett holds a Doctorate of Clinical Psychology from the University of Denver and Clinical Residency from UCLA. She is a former NYC Joffrey Ballet Apprentice, who brings to her current pole dance studio clients more than 24 years of dance experience that includes a company tour in Russia and Scandinavia.
Pole dance lessons are in full swing at TranZenDance Studio's new location at 209 Kalamath Street, Suite 20, in Denver. For class information, please contact the studio at (303) 534-3262. Read more about TranZenDance Studio on the web at http://www.tranzendancestudio.com and http://www.denverpoledancing.com.
###