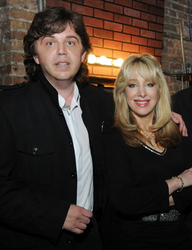 "The PondHawks are light years ahead of most new artists I get exposed to," says Tom Jasper of KPOV-FM.
Chicago, IL (PRWEB) January 28, 2011
The PondHawks rock band from Chicago, has written a new song about the late great Buddy Holly. "Time Flies" was inspired by a news item posted on the Surf Ballroom's Web site commemorating Holly's last concert there on February 2, 1959. PondHawks' Mario Novelli and Jorie Gracen wrote the song on the 50th anniversary of Holly's final concert in Clear Lake, Iowa. Holly along with J.P. "The Big Bopper" Richardson and Ritchie Valens, perished shortly after their plane took off in the early morning hours of February 3rd from Mason City. They were headed to Moorhead, Minnesota after playing the Winter Dance Party at the Surf Ballroom.
"I've always loved Buddy Holly's music," says Gracen. "It has a natural simplicity fueled by a powerhouse of rock 'n' roll energy. Mario and I wrote 'Time Flies' after reading about Holly's last show. The song is a tribute to his music, which influenced ours. There are several references in 'Time Flies' to Holly's songs."
Novelli adds, "The instrumental break starts with mandolin and ends in electric guitar. Holly played a mandolin on his early demos and ended up as a guitarist. I wonder if any Buddy Holly fans will say, 'Yeah… I get it!' "
The PondHawks are currently ranked in the top 20 Alternative bands in Chicago and have received over 10 months of Triple A radio airplay from their critically acclaimed debut album, "The PondHawks Have Landed".
One could describe their music as Adult Contemporary with a unique retro rock 'now' sound. The band's vocal harmonies are reminiscent of another big influence that shaped their signature sound, The Beatles. After listening to this album there should be no doubt why this virtually unknown, unsigned band is getting unprecedented longevity on the radio. There is not a bad song on the album. Their sound is refreshingly original and doesn't follow the current cookie cutter trend of top 40 music that has plagued charts with banal carbon copy music.
Gracen says, "We are true to our own music and try not to sound like everyone else. None of our songs sound like the last song. We work very hard to be musically innovative and creative, rather than follow the current trend."
The PondHawks have support from many DJ's at Triple A radio stations. Tom Jasper of KPOV-FM 106.7 in Bend, Oregon is a big fan of The PondHawks.
"I received a copy of 'The PondHawks Have Landed' album and to say I was blown away would be an understatement. Thank you so much for creating this music! The amazing thing to me is the feeling of how badly this music was needed without being aware of it. It's been longer than I can remember since an album has so strongly resonated with me. When I get new music at KPOV, I listen to some and decide whether they should get airplay. I then play The PondHawks right afterwards, and there is no comparison. The PondHawks are light years ahead of most new artists I get exposed to," says Jasper.
Thomas Gilding, General Manager of WBSD-FM 89.1 radio in Burlington, Wisconsin said this about the band. "I just got a chance to listen to 'The PondHawks Have Landed' album. Wow! Innovative, unabashed, catchy, interesting, even kooky (in a great way) and always consumingly professional, in all five-part harmony!"
Rodney Bingenheimer of KROQ-FM 106.7 in Los Angeles called "Your Mind Is Hard To Find" by The PondHawks a "BOLD=new song."
David Bash founder of The International Pop Overthrow Festival hosted the band's album release party in Chicago and had this to say, "We at IPO were honored to host the CD release show of one of Chicago's coolest bands, The PondHawks! Their songs keep rising on various charts, and for good reason, because they rock the British inflected, '60's influenced pop music! Some British influences, some U.S. influences, but their stock in trade are their wonderful male/female harmonies and sparkling hooks! Said CD, 'The PondHawks Have Landed', is nothing short of awesome! As good as their CD is, they're two notches above it live!"
The band's album made several year-end 2010 Best of Contemporary Albums charts, placing in the high top 40. "The PondHawks Have Landed" also placed in the top 40 on local radio station charts across the US.
What is next for the PondHawks? They are already hard at work on their second album, which has a breakout song that promises to be a chart topper. After hearing early mixes of this song I can say it definitely will be a huge hit. In fact the band has written an arsenal of music that could fill another 10 albums with many songs that would fit quite nicely in trendy film soundtracks. Record companies will soon be lining up to sign this band.
— Martha Lars (United Rock Press)
You can hear "Time Flies" and all the album tracks from "The PondHawks Have Landed" at these links:
The PondHawks on myspace
http://www.myspace.com/thepondhawks
The PondHawks Official Page
http://www.pondhawks.com
The PondHawks on Reverbnation
http://www.reverbnation.com/thepondhawks
Album available as a download or physical CD on these sites
iTunes
http://itunes.apple.com/us/album/the-pondhawks-have-landed/id363273087
CD Baby
http://cdbaby.com/cd/PondHawks
Amazon.com
http://www.amazon.com/exec/obidos/ASIN/B003HGKDTW/
Tower Records
http://www.tower.com/pondhawks-have-landed-cd/wapi/116714422
CD Universe
http://www.cduniverse.com/productinfo.asp?pid=8175084
###