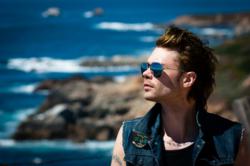 Fresh, savvy lyrics with a unique combination of pop rock & rap/hip hop… music producer M.V.
Los Angeles, CA. (PRWEB) June 29, 2011
Rising star, up and coming 24 yr old singer/songwriter Dusty Ray already created a buzz at his East Coast album release in Pittsburgh, PA's studio Ballroom. Prolific talent, playing 3 instruments, singing and writing music since he was 13, his first album is releasing this Saturday, July 2 at the Troubadour on the West Coast.
With his backup band, The Drama Montage, he creates songs fans want to dance to or sing along with---in each case they are memorable. Lyrics are "catchy, smart", mix genres, and "have a message to them". Recent interview surveys conducted by Trendsetters all over the country on girls and guys from 13 to 28 year olds, show that 85% wanted to hear more, get his album, after hearing a song of his and seeing his picture and web sites. His dynamic live performance is popular and he is booking up fast on the west coast. All those that attend this Saturday will receive a FREE CD of the new album. His music has all the elements for a long career. New videos are also being released on YouTube. "Lookin' like a Ghost" video recently shot on the East Coast tells Dusty's story visually.
HIs cool personality and good looks add to the mix, but with an unselfish manner and shits-and-giggles style he engages fans. A bit of James Dean hip with a modern twist looking toward the future--the bad boy that's really very good.
His goal is "making music that matters to people and words that communicate and are REAL to others", using things he has seen, experienced, or future songs he imagines. Music fans who hear his vocal range and ability in different genres use the word "amazing", and excitement is spreading across the country for this new talent. Press is welcome at the album release and Dusty can give interviews.
Always thinking in terms of futures, he is currently writing songs for his next album in between playing live gigs and being available online for his fans.
Catch the new album release party Saturday, July 2, at the Troubadour in LA, CA. Free CD of album for those who attend the live show.
Go to http://www.IAMDUSTYRAY.com
or http://www.facebook.com/dustyrayfanpage for more information.
###