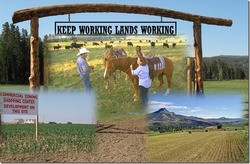 "I've met so many landowners who love their land. It is part of who they are. If we allow that culture to die, I guarantee the health of the land will go with it." - Amos S. Eno, Director, Resources First Foundation
Moscow, ID (PRWEB) April 5, 2011
The care of 50% of American land is in the hands of less than 2% of its people, the private landowners. "But we face the greatest turnover of land in U.S. history in the next two decades," warned Amos S. Eno, whose flagship project is the Private Landowner Network, or PLN. Speaking at a University of Idaho seminar on Monday, he added, "Our nation, the good old US of A, home of the almighty dollar, is flat broke."
Private lands are threatened with development and fragmentation into ever smaller ownerships, while growing urban populations put greater demands on natural working landscapes. Those landscapes provide the services essential to modern life: food, fiber, timber, water, wildlife recreation and even more exotic commodities like carbon sequestration.
Mr. Eno, founder and director of the nonprofit Resources First Foundation, or RFF, maintains that one answer to this private land squeeze is to recognize the value of private stewardship and give landowners the tools they need to stay in business, both ecologically and economically. "Private landowners represent the largest conservation market of the 21st century."
Mr. Eno drew a parallel between private landowners and Davy Crockett, both possessing a fiercely independent and self-reliant frontier spirit. "But," he said, "what is worrying for our nation's welfare is that old Davy is getting on. He is old. The average age of farmers across the U.S. is 60, and the average age of forest landowners is pushing 70."
Mr. Eno admits, "Yes, there's been recognition of private landowners by state and federal resource agencies, but it's at the ground level, percolating unnoticed by the public at large, particularly metro America. When is the last time you heard a government or business leader talk about private lands in the same breath as national security or public health?"
Eno believes it is time for the country's elites to recognize the leadership contributions and potential of thousands of individual landowners.
Better Return on Conservation Investment
Acre for acre, private lands generate a better return than most public lands. Dr. Michael Scott, who invited Eno to speak, pioneered GIS-based Gap analysis, which correlates the geographic extent of protected areas and hotspots of wildlife diversity. "What do we find?" Eno asks. "Most federal land is over 3000 feet. We are protecting rocks, ice, alpine trees, high altitude deserts in abundance. Meanwhile, the biodiversity is concentrated in our creeks and drainages and river bottoms throughout the West, which are predominantly in private land ownership."
Eno insists that "continuing to push the envelope for more federal land acquisition is a questionable strategy. We need to shift the focus of our policies from public land aggrandizement to supporting private land stewardship and entrepreneurship."
Opportunity through Online Tools
Given the acknowledged inability of state and federal agencies to educate everyone they would like to; given that the next generation of landowners will surely expect to find virtually all their information online; and given the dire picture of declining agency budgets in the future, what are the alternatives for educating the next wave of private landowners? In a word, the Internet.
"One solution that we've developed at RFF," said Mr. Eno, "is to build and operate B2B online marketplaces for the benefit of private land stewardship. We focus on actionable information in a neutral setting with a user-friendly interface. Our websites provide reach into rural communities through networks of service providers listed in our PLN Yellow Pages. The structure of PLN and our state websites results in a win-win-win for landowners, their service providers, and the outdoor recreating, farm-to-market shopping public."
Aldo Leopold, the fabled conservationist, argued for a land ethic "which assigns more obligation to the private landowner." Private land stewardship cannot be coerced, but must be encouraged, incentivized, rewarded, recognized through profiling innovative leaders, and above all, made clear and straight forward. Mr. Eno highlights an example of how the internet makes a perfect platform for expanding the reach of education, training and business transactions in a recent post on his blog, "Keep Working Lands Working."
Eno concluded, "After 50 years of relentless environmental advocacy, I think that cultural change has brought us to where we can trust the vast majority of land owners to do the right thing by their land and be good stewards." The question remains, how best to help them?
Company Profile: Resources First Foundation focuses on private sector solutions
for the environment. Their flagship Private Landowner Network, along with 8 additional websites, has seen continuous growth in traffic since its debut in 2000. Follow RFF on Twitter.
###