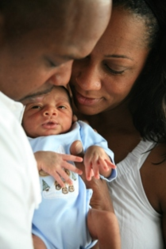 Owings Mills, MD (PRWEB) September 16, 2011
On Sunday October 2 at 7:30 a.m., the Maryland-based Tinina Q. Cade Foundation will hold its 6th annual Maryland Cade Foundation Race for the Family 5k, fun walk and silent auction. The race will take place at Seneca Creek State Park located at 11950 Clopper Rd, Gaithersburg, MD. All monies raised through the event will support the Cade Foundation's Family Building Grant; a $10,000 award given to infertile couples in the United States to aid in costs associated with fertility treatments and domestic adoption. Hosted by Shady Grove Fertility Center, the race will host 750 registrants and volunteers. The 5th Cade Foundation Race for the Family, hosted by Shady Grove Fertility, generated $95, 000 in support for the Cade Foundation. Individuals and families can register at http://www.raceforthefamily.com.
"We are thrilled about the chance to increase awareness about infertility and give hope that parenthood is possible through this race," said Camille Hammond, Executive Director and founder of the Cade Foundation. "Partnering with Shady Grove, we are confident that we will reach our goal, and are looking forward to providing so many worthy couples with the funds they need to grow their family." Frank Chang, M.D., a Shady Grove Fertility Center board-certified reproductive endocrinologist and Cade Foundation board member "We are delighted to work in partnership with the Cade Foundation to help more couples in our area and beyond fulfill their dream of starting a family." Grubbs Pharmacy owner, Dr Michael Kim, a Platinum sponsor, commented "Grubbs Specialty Pharmacy is committed to providing exceptional care to our Fertility patients and look forward to continuing our collaboration with the Cade Foundation."
This year, Shady Grove Fertility is donating $10,000 in fertility treatment services which will be raffled off for the event. Grubbs Pharmacy is also donating two $5000 medication cycles for fertility treatment for raffle for the event. All race registrants are entered to win the raffle, which will be drawn on Wednesday October 28, 2011.
To date, 22 families nationwide have received the Cade Foundation's Family Building Grant (resulting in 16 births and adoptions) and families finally realizing their dream of parenthood.
All proceeds benefit the Cade Foundation's Family Building Grant, providing up to $10,000 in support for adoption or fertility treatment.
Special thanks are offered to all sponsors, and special acknowledgment Platinum level sponsors ($10,000 or more in support) Shady Grove Fertility, Grubbs Pharmacy, Mixed 107.3 FM; For more information please visit us at http://www.raceforthefamily.com.
# # #