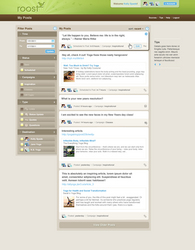 Roost is a product for real people who have little to no time, aren't fully up to speed on all the nuances of social marketing and live and die by referral business. And best of all, it's free.
San Francisco, CA (PRWEB) March 29, 2011
Roost (http://www.roost.com, @roost), a technology company committed to helping small business go social, announced its new social marketing platform for Facebook and Twitter at the Web 2.0 Expo in San Francisco today. The Roost freemium productivity tool helps businesses who rely heavily on word of mouth and referrals tap into the power of the social Web more efficiently and more effectively.
Roost solves the nagging problem all business owners face when thinking about social marketing, "what do I post and when do I post it?" To alleviate the stress and time-sink often caused by social media, Roost developed the Campaign Creator which helps professionals plan their social marketing activities in 20 minutes per week. With the Campaign Creator, a user can set the duration and content types (post, link, quote, etc.) for each campaign. Roost automatically provides customized recommendations on post type and frequency to match the length of the campaign and to deliver a variety of content for higher audience engagement.
In addition, Roost's suggested content feature, a first in this category, solves the problem of what to post with direct access to articles, blogs, quotes and other original content. With the suggested content feature, Roost users can easily queue up content on a daily or weekly basis by accessing a dynamic library of content related to the user's specific occupational sector and interests. Campaign Creator is also designed to build relationships and attract more business with The Roost Bar. When friends, fans or followers view a shared link, a small, branded bar appears above the article and allows audiences to immediately "like" the user's Facebook Page.
"Roost Campaigns are critical to disseminating strategic content in an efficient and timely manner to our various Facebook Pages, Groups, and Twitter accounts," said Laura Slezinger, Managing Director, San Francisco Girls in Tech. "And Roost Circles allows us to connect to our dozens of national and international chapters without having to coordinate manually for each post."
Unlike existing publishing tools for social networks, Roost is inherently social. Roost Circles, announced today in Beta mode, is a way for SMBs and individual pros to band together with their closest business associates, and by request, share each other's posts, providing branding and engagement opportunities across each other's networks. Whether the circle includes employees, favorite customers or vendors, the technology capitalizes on the economically relevant concept that rising tides lift all boats.
"Roost was built for the restaurant, CPA or Realtor, who doesn't want to spend 10 hours per week on online marketing. They know they need to be on Facebook and Twitter, but they aren't sure what to do or how to start," said Alex Chang, CEO of Roost. "Roost is a product for real people who have little to no time, aren't fully up to speed on all the nuances of social marketing and live and die by referral business. And best of all, it's free."
To create real social marketing campaigns, stay top of mind with your existing customers, find new customers and grow your social network for free, sign up at http://www.roost.com.
For those attending Web 2.0 Expo SF, Roost can be found in Booth 508, March 29-30, 2011, or at their presentation, Social Means Business: Real Stories from Real Businesses, at the Web 2.0 Solutions Theater in the Expo Hall on Tuesday, March 29th at 12:00 p.m.
About Roost
Headquartered in San Francisco, California, Roost is a new social marketing platform for individual professionals and businesses that helps manage their social presence and engage with their customers across key social networks, such as Facebook and Twitter. Roost has more than 20,000 real estate professionals and over 100 companies using its social products. Roost's executive team is comprised of small business and social media experts from Walmart.com, Merchant Circle, Flixter and Social Gaming Network. The company is venture capital funded by Shasta Ventures and General Catalyst. Turn social into business at http://www.roost.com.
# # #