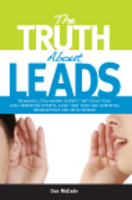 I had to write a book about leads because I simply could not stand back and watch so much money being wasted
Atlanta (PRWEB) February 3, 2011
PointClear, LLC, the prospect development company, today announced the publication of The Truth About Leads, a practical, easy-to-read book that helps B2B companies focus their lead-generation efforts, align their sales and marketing organizations and drive revenue. The example-filled guide by PointClear founder, president and CEO, Dan McDade, was published by Onsei, and is available on Amazon.
McDade was compelled to write The Truth About Leads based on his 20+ years of experience in direct marketing, lead generation & nurturing, and prospect development, including working with PointClear's technology, healthcare and business services clients. "I had to write a book about leads because I simply could not stand back and watch so much money being wasted," he said, referring to the all-too common mistakes made by sales and marketing organizations that don't communicate.
Listen to McDade explain his inspiration for writing The Truth About Leads: http://www.youtube.com/watch?v=mWMCFdGBp40
"Leads are the lifeblood of any company and effectively defining, generating, working and tracking them is to success," said McDade, who was recently named to the list of 50 most influential people by the Sales Lead Management Association for the second straight year.
The Truth About Leads, a book that debunks traditional thinking while uncovering the truths that lead to additional, larger and more profitable wins for B2B organizations, was two years in the making. More than 17 industry influencers have endorsed the book, including Jim Dickie, managing partner of CSO Insights; Ginger Conlon, editorial director of 1to1 Media; Ann Handley, founder and chief content officer of MarketingProfs and author of Content Rules; Ardath Albee, author of eMarketing Strategies for the Complex Sale; and Jill Konrath, author of SNAP Selling: Speed Up Sales and Win More Business with Today's Frazzled Customers and Selling to Big Companies.
Konrath noted in her review, "To increase your sales with today's crazy-busy prospects, it's imperative to implement a successful lead generation program. The Truth About Leads nets out everything you need to know in one quick read."
McDade is available for speaking engagements, panel discussions, webinars and interviews and provides book excerpts and commentary for blogs and other publications, on the following subjects covered in the 101-page book:

How The Gap Between Marketing and Sales Impedes Your Lead Process
Why Your Sales Force Needs Fewer Leads
How You Can Reap the Value of Long-Term Leads
What the Secrets are to Turning Raw Leads Into Real Opportunities
Why Direct Marketing Causes Executives to Lose Their Marbles
How Multi-touch, Multi-cycle, Multi-media Processes Multiply Results
How Speaking to Buyers' Pain Points Can Help You Leap-frog Ahead
What Doesn't Work When it Comes to Lead Management
What 10 Actions You Can Take to Improve Lead Generation
About PointClear, LLC
Founded in 1997, Atlanta-based PointClear helps B2B companies drive revenue, closing the gap between marketing and sales by nurturing leads, engaging contacts and developing prospects until they're ready to close. The prospect development company stands out because of its strategic approach to planning; the quality of its people; and its multi-touch, multi-media, multi-cycle processes. This unique combination provides best-in-class client companies such as Microsoft, UnitedHealth Group, LXE, SGI and D&B more predictable forecasts and more sales success. PointClear's president Dan McDade recently authored the book, The Truth About Leads. For additional information, visit PointClear's blog ViewPoint | The Truth About Lead Generation or PointClear or call (877) 582-9909.
###