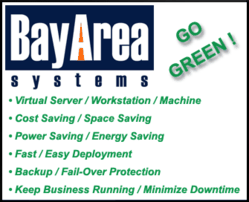 The nominal membership fees provide members with access to fast responses from professional and knowledgeable support staff 24/7/365, and also the setup of automated online backup of up to 50 GB of data
San Francisco, California (PRWEB) September 22, 2011
Bay Area Systems, premier information technology (IT) consulting company in San Francisco Bay Area, is on the forefront of providing cost-effective Information Technology outsourcing solutions for small businesses.
Small business owners need reliable off-site backup solutions to have important data backed up automatically. In addition, the backed up data should be reasonably easy to retrieve when there is a need.
Starting October 1st 2011, Bay Area Systems'"Gold Technology Club Membership" will allow San Francisco Bay Area small businesses a unique opportunity to join a service oriented technology support "club", and not only receive up to 50 GB of data backed up automatically online, but also received discounted club member price on all technology support and consulting services fees. BayArea Systems has consistently offered San Francisco Bay Area small business owners solutions to help increase the cost effectiveness in information technology support services, as well as cutting edge technology solutions to make the technology infrastructure more robust, efficient, and secure. The nominal membership fees provide members with access to fast responses from professional and knowledgeable support staff 24/7/365, and also the setup of automated online backup of up to 50 GB of data.
BayArea Systems' unique server cluster infrastructure provides fast and reliable data backup over the Internet, data transfer speed is only limited by customers' Internet upload speed. Intelligent setup of backing up only daily differentials allow for fast, efficient and through backup coverage. Data restore is even faster, limited only by the customers' Internet download speed.
Bay Area Systems'"Gold Technology Club Membership" is a brand new concept providing member customers technology support that is fast, responsive, professional, and complete. Customers can further customize membership plans and packages to tailor specific needs of server maintenance and management, and/or workstation support and maintenance. The membership is the gold standard in IT support services catering specifically to small businesses.
By providing such services, BayArea Systems continue to provide innovative solutions to help small businesses through tough economic conditions by providing the most bang for the buck on technology solutions. BayArea Systems' "Gold Technology Club Membership" offers manageable, cost-effective option to small business owners. After becoming a member, business owners can receive significant discount on IT support services, and receive professional services and fast responses, and at the same time rest assured that mission critical company data has a backup copy off-site in a secure data center.
For almost a decade, Bay Area Systems has provided cost-effective computer systems and network support and services to small businesses all around the San Francisco Bay Area. BayArea Systems LLC has become a pioneer in providing customized technology solutions that are efficient, cost-effective, and improve bottom line of small businesses. BayArea Systems' business model is based on their passion to provide the best customer service experience in the industry, and building long-term business relationship with their customers.
###