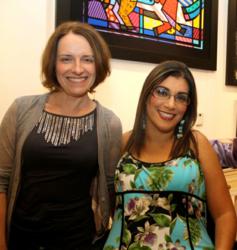 For one night this Miami Beach hotspot turned into a hotbed fusion of stem cell research, vivid art, cuban music, gambling, great food, and beautiful people.
Miami Beach, FL (PRWEB) November 25, 2011
On the night of November 12, David Porosoff's Artrageous Gallery hotspot was converted into something likely never imagined -- a hotbed of stem cell research. Sabrina Cohen fused the vividly artistic backdrop and venue with gambling, cuban music, great food, and beautiful people all to further her mission of raising money and awareness for stem cell research.
Dubbed the Havana Casino Night, the event had several highlights including the granting of the 2011 Sabrina Cohen Foundation award to stem cell researcher Dr. Sally Temple.
Representing the 3rd receipient of the annual SCF award, Dr. Sally Temple is studying how neural progenitor cells may be employed to create cell-based therapies for neurodegenerative disorders. Dr. Temple is the co-Founder and Scientific Director of the Neural Stem Cell Institute located in Rensselaer, NY. NSCI is the first independent, non-profit stem cell research institute in the USA.
The night, sponsored in part by DMR, Evensky & Katz and Harke Clasby & Bushman, raised $10,000 which will be dedicated toward next year's SCF Award for Stem Cell Research.
The event also marked the lauch of the the Foundation's 2012 CELLebrity Doctors Calendar, this year featuring women in the field of stem cell research. The calendar features academics, industry executives, physicians, and advocates primarily from the United States but also representing Sweden, Australia and Canadian covergirl, Dr. Fiona Costello.
"In science you don't have to accept anything anyone tells you, you can come up with a hypothesis and test it yourself. And you can be the first one to do it," says Dr. Costello, whose research focus is on multiple sclerolsis and other impairments of the central nervous system.
"Stem cell science is often accused of being 'hyped," says Cohen, "but that doesn't necessarily translate into monetary support for or societal recognition of the enormous contributions made by stem cell resarchers. They often toil in anonymity making significant discoveries at great personal sacrifice. I consider it my job to find a way to financially support their work and bring profile to them as people."
The 'CELLebrity' Doctors Calendar
The 2012 CELLebrity Doctors calendar is now available for purchase from http://www.CELLebrityDocsCalendar.com. All proceeds from calendar sales benefit the Sabrina Cohen Foundation for Stem Cell Research, a 501c3 non-profit organization directly funding stem cell clinical research.
The Sabrina Cohen Foundation
The Sabrina Cohen Foundation for Stem Cell Research (SCF) is an internationally recognized nonprofit organization dedicated to building a global network of top scientists and clinicians in the field of Regenerative Medicine, while simultaneously funding cutting edge research and innovative therapies that will reverse spinal cord injury and effectively treat other impairments of the Central Nervous System.
Sabrina Cohen is the Executive Director and President of the foundation. She graduated from the University of Miami with a degree in Communications, double majoring in Advertising and Psychology, and holds a post-graduate degree in Copywriting from the Miami Ad School. She is a C5 Quadriplegic, as the result of a spinal cord injury from a car accident in 1992. In 2006, she established SCF to raise funds for research because she believes the field of Regenerative Medicine will lead to the greatest advances of our time. Sabrina is a Motivational Speaker & Spokesperson continuously speaking in schools, universities and community centers. She has spoken at scientific conferences around the country, including the "World Stem Cell Summit" at the University of Wisconsin, Harvard University, Stanford University, Baylor College of Medicine at the University of Texas, and at the United Nations. Sabrina believes her wheelchair is a vehicle to promote change.
Sabrina Cohen was recognized by WebMD Magazine as a 2009 "American Health Hero". Sabrina is currently available for interviews highlighting the 2012 "CELLebrity" Doctors Calendar.
###