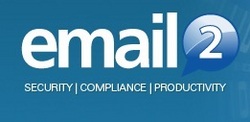 email2 enables companies to implement a safer method of secure email tracking and messaging.
Portland, OR (PRWEB) February 17, 2011
email2, the leading provider of secure cloud email and content delivery, announced today that the United States Patent and Trademark Office have issued US Patents 7,831,711 and 7,870,205 for its innovative content delivery application known as the Delivery Slip, a key component to the added value of using the email2 cloud service.
The Delivery Slip application allows for real time tracking and an audit-trail of all secure messaging and content delivered. This highly advanced email feature is currently used by organizations to aid in compliance with regulatory requirements including SOX and HIPAA to track all messaging activity with complete accuracy, and not currently available with any other email encryption products.
Every new secure message created automatically incorporates the Delivery Slip, allowing the sender to set action specific permissions related to the secure message being sent such as 'ForwardFreeze' or 'ReplyFreeze'. This tracking feature displays the complete list of message participants. It indicates whether or not recipients have retrieved the message, opened or locally stored attachments. It shows if a message has been printed, whether a message was deleted and if the message was replied to or to whom it may have been forwarded. In addition, for enhanced security, the Delivery Slip allows the sender to set up a unique password to a specific email thread so that only trusted sources can open the designated email.
The patented Delivery Slip offers secure identity verification, so you know that no one has "spoofed" an email account and sent a forged or altered email to you. Because there is sender transparency, personal accountability enforces non-repudiation and ensures a reduction in spam, phishing and the spread of malicious software.
"In today's information age, securing important company data from outside threats have never been more crucial," says Thierry LeVasseur, Founder and CEO of email2. "With email2's Delivery Slip, companies can now be guaranteed that their content is delivered securely using innovative features including the first complete message and attachment recall, and the ability to track the recipient's email messaging habits."
Extremely cost-efficient and compatible with any existing email system or webmail account, email2 enables companies to implement a safer method of secure email tracking and messaging. Visit http://www.email2.com for a complete description of the Delivery Slip features and learn about the 30-day free trial currently being offered.
EMAIL2 – http://www.email2.com
Established in 2006, email2 is dedicated to providing the very best in Secure Cloud Email and Content Delivery. The email2 mission is to offer businesses an email encryption service far superior to any other product in the market. With thousands of accounts activated worldwide, email2 has emerged as a leading full service cloud email messaging security provider.
# # #