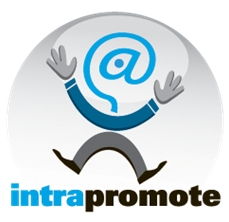 Cleveland, OH (PRWEB) June 21, 2011
Boutique search and social media marketing agency Intrapromote announces the promotion of Erik Dafforn to company president. Mr. Dafforn, who this year co-authored the book "Search Engine Optimization Secrets," and has led the growth of Intrapromote's SEO department as its director, will assume a greater leadership role that will help shape Intrapromote's strategic vision for the future.
Doug Ausbury, who co-founded Intrapromote in 1999, describes how Mr. Dafforn is perfectly suited to his new position: "Having been here since the beginning, Erik knows our identity, our culture and what makes us a great digital agency. His influence has been felt in every part of our business. We are excited and look forward to Erik's leadership in the years ahead," Mr. Ausbury said.
"Erik was excelling at Enterprise SEO before anyone even knew to call it Enterprise SEO," adds Co-Founder John Lustina. "He transformed SEO in the early days into a legitimate channel for big brands at the same level Red Grange completely changed pro football from freak show to Big Show."
Mr. Dafforn is a thought leader in the search engine optimization industry and has written hundreds of articles on the subject for Intrapromote's blog, ClickZ and other major publications. In his 12 years with Intrapromote, Mr. Dafforn has mentored the staff in the search engine optimization department by his daily example of dedication and his innovative ideas. His talent and leadership ability define him as a respected and consummate professional.
Mr. Dafforn has guided Intrapromote's search marketing campaigns for major brands such as Acura, Honda, Cleveland Clinic, Energizer, Behr, New Orleans Online and many others. As Intrapromote's President, his ability to visualize, plan and execute on behalf of the company and its clients will allow Intrapromote to confidently navigate its second decade as a leading search and social marketing firm.
About Intrapromote
Founded in 1999 Intrapromote is a twelve year old company in a twelve year old industry. Intrapromote is a boutique Integrated Search & Social Media Marketing Agency specializing in custom strategies for Web Assessment, Search Engine Optimization, Link Development, Reputation Management and Social Media Marketing. Intrapromote is a Top 20 Search Specialist Agency for Enterprise level SEO as recognized by Forrester Research and also has earned the American Honda Premier Partner designation for Quality, Value & Customer Service.
Intrapromote's Executive Team is made up of thought leaders in the industry and its staff represents some of the most creative and experienced individuals in Search and Social Media Marketing today.
For more information please contact:
Sean Bolton | VP Business Development | Intrapromote, LLC.
A Boutique Search and Social Media Marketing Agency
Direct: 440-259-1842
Cell: 440-417-2834
Fax: 630.604.7656
Website: http://www.intrapromote.com
Follow Us on Twitter: @Intrapromote
# # #