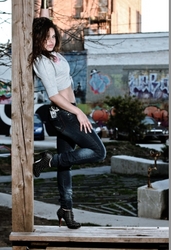 I love this site!!! Not only is it user friendly. its the definition of Fashion.I love the setup, professional pictures & the clothes. I received fast delivery & the packaging was very professional & presentable. Its way better then Bebe & express.
Glen Allen, VA (PRWEB) April 6, 2011
Summer is drawing near! Tired of that plain look? What's hot this spring 2011 is Ruttish Clothing, introducing new bold, adventurous colors like Fuchsias, Reds and Sassy Prints. Be noticeable wearing Ruttish trends. Make heads turn wearing the latest Dresses, Skirts, Jeans, Rompers, Hot pants, Swimwear and the list goes on. Ruttish is synonymous to "Sexy." Ruttish founders launched Ruttish Inc, in 2010. All Fashionistas have a Ruttish style deep within. Ruttish Clothing is about merchandising with a creative imagination for style and fashion. Ruttish markets a distinctive line of contemporary women's apparel and accessories, offering styles from the conservative business woman, to the funky gals, trendy mamacitas and the romantic femme fatales wearing soft colors like Taupe and materials consisting of Silks and Chiffon, to most of all the red hot sexy mommas. Bodacious is sexy! Ruttish also caters to plus size ladies. Accessories include shoes, fashion jewelry, bags, belts and much more. Shop quality merchandise at an affordable price; target market includes women globally via the World Wide Web. Ruttish site is available in any language, so nobody's left out! Ruttish ships internationally through a third party vendor, "International Checkout." Ruttish Online Boutique launched 3/21/11, check out http://www.ruttishclothing.com. Enter the Code: PRESS and save 40% off! No minimum purchase required offer ends 4/16/11. Shop Ruttish Clothing for your wardrobe essentials and make heads spin.
# # #