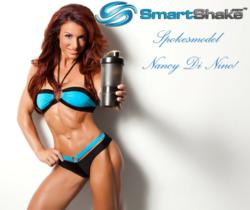 I am thrilled and honoured to be part of such a renowned team of professionals. I don't leave home without the convenience of my Smartshaker carrying all my pre/post workout supplements.
(PRWEB) October 17, 2011
Smartshake.com, "The Worlds Smartest Shaker" is shaking things up! Based out of Sweden, Smartshake has catapulted itself to being the top shaker cup in the world, now available in over 21 countries. We are proud to have Nancy Di Nino join the team as an official Spokesmodel and Canadian Marketing Liaison.
Nancy Di Nino's diversity of talents as a cover model & media personality has allowed Smartshake to establish an active voice and presence in the media. Some of her many roles include: former co host of Living Beautiful Radio, and co-host of the 2007 Arnold Schwarzenegger Sports Festival women's webcast including a personal interview with the former Governor, Arnold Schwarzenegger. Nancy, a 6x Cover Model has been internationally published in magazines such as Oxygen, Ironman and most recently this October's issue of Planet Muscle.
"I am thrilled and honoured to be part of such a renowned team of professionals. I don't leave home without the convenience of my Smartshaker carrying all my pre/post workout supplements." As the Official Spokesmodel and Canadian Marketing Liaison I look forward to promoting Smartshake and ensuring its presence as the #1 sport supplement shaker not only in Canada but worldwide," …says Nancy Di Nino
Team Smartshake has sponsored various athletes in many sports. Their roster of athletes includes but is not limited to 8x Mr. Olympia Ronnie Coleman, 4x Mr. Olympia Jay Cutler, 6x Fitness Olympia Adela Garcia, IFBB Pro Flex Lewis and the newly crowned Mr. Olympia Phil Heath, each with their own unique signature cup series. The team also is showcased by Spokesmen, IFBB Hall of Famer Shawn Ray. The benefit of Smartshake is not only the high quality craftsmanship but also the ability to carry 3 shakers in 1. Great for athletes to manage protein shakes, pre/post workout supplements or sport accessories.
Visit http://www.smartshake.com
###